Guyana Goldfields Inc. (TSE:GUY) Director Alan Louis Henry Ferry sold 7,000 shares of the business's stock in a transaction that occurred on Friday, June 22nd. The shares were sold at an average price of C$4.89, for a total value of C$34,230.00.
Guyana Goldfields opened at C$4.92 on Monday, Marketbeat reports. Guyana Goldfields Inc. has a 12 month low of C$3.96 and a 12 month high of C$6.13.
Guyana Goldfields (TSE:GUY) last released its quarterly earnings results on Monday, April 30th. The company reported C$0.06 earnings per share (EPS) for the quarter, beating analysts' consensus estimates of C$0.05 by C$0.01. Guyana Goldfields had a net margin of 22.82% and a return on equity of 14.96%. The firm had revenue of C$64.13 million for the quarter.
Separately, BMO Capital Markets boosted their price objective on Guyana Goldfields from C$7.50 to C$8.00 in a research note on Wednesday, March 28th. Five analysts have rated the stock with a buy rating, Guyana Goldfields currently has a consensus rating of "Buy" and a consensus target price of C$7.25.
Guyana Goldfields Company Profile
Guyana Goldfields Inc engages in the investment, acquisition, exploration, development, and operation of gold properties in Guyana, South America. It primarily owns a 100% interest in the Aurora gold project located in Guyana. The company also holds a contiguous 216,995 acre land package located in the Aranka district of Guyana.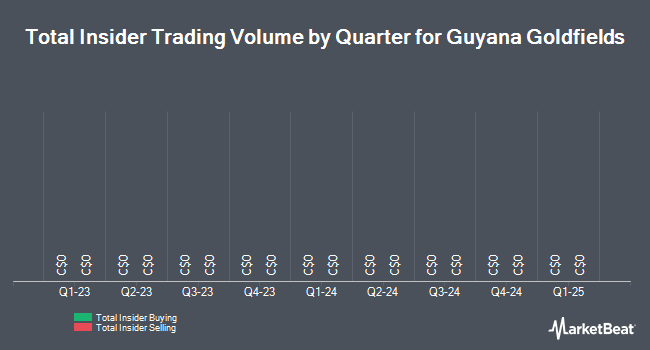 Receive News & Ratings for Guyana Goldfields Daily - Enter your email address below to receive a concise daily summary of the latest news and analysts' ratings for Guyana Goldfields and related companies with MarketBeat.com's FREE daily email newsletter.