Magna International Inc. (TSE:MG) (NYSE:MGA) insider Francis Seguin acquired 12,600 shares of the business's stock in a transaction dated Friday, June 29th. The stock was acquired at an average price of C$77.13 per share, for a total transaction of C$971,838.00.
Francis Seguin also recently made the following trade(s):
On Tuesday, June 12th, Francis Seguin sold 75,886 shares of Magna International stock. The stock was sold at an average price of C$84.58, for a total transaction of C$6,418,437.88.
Magna International traded down C$0.49, reaching C$75.97, during mid-day trading on Tuesday, according to MarketBeat Ratings. 671,090 shares of the stock were exchanged, compared to its average volume of 1,003,116. Magna International Inc. has a 1 year low of C$57.47 and a 1 year high of C$87.13.
Magna International (TSE:MG) (NYSE:MGA) last announced its quarterly earnings results on Thursday, May 10th. The company reported C$2.33 earnings per share (EPS) for the quarter, topping the Zacks' consensus estimate of C$2.10 by C$0.23. Magna International had a net margin of 5.28% and a return on equity of 19.24%. The firm had revenue of C$13.64 billion for the quarter, compared to the consensus estimate of C$12.69 billion.
The company also recently declared a quarterly dividend, which was paid on Friday, June 8th. Investors of record on Friday, May 25th were issued a dividend of $0.33 per share. This represents a $1.32 dividend on an annualized basis and a yield of 1.74%. The ex-dividend date was Thursday, May 24th.
About Magna International
Magna International Inc designs, develops, and manufactures automotive systems, assemblies, modules, and components in North America, Europe, Asia, and South America. The company offers body systems, including exterior sheetmetal and closure systems, body structure systems, and energy management solutions; chassis systems, such as frames and chassis subframes, suspension links and arms, and chassis modules; and engineering services comprising support, program management, virtual tool, prototype build and validation, testing, and research and development services.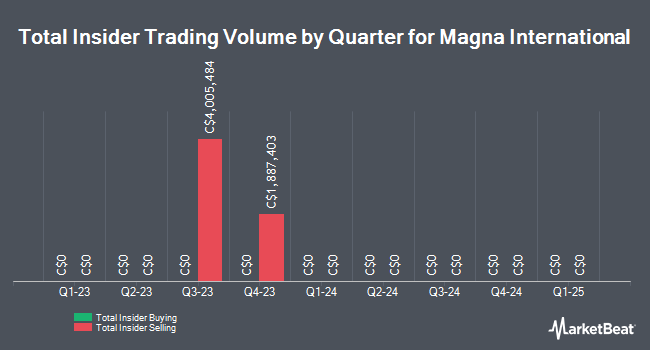 Receive News & Ratings for Magna International Daily - Enter your email address below to receive a concise daily summary of the latest news and analysts' ratings for Magna International and related companies with MarketBeat.com's FREE daily email newsletter.