Zacks Investment Research upgraded shares of SWISS RE Ltd/S (OTCMKTS:SSREY) from a sell rating to a hold rating in a research note issued to investors on Saturday.
According to Zacks, "Swiss Reinsurance Company Ltd operates as a reinsurance company. The Company offers automobile, liability, accident, engineering, marine, aviation, life, and health insurance. It provides wholesale reinsurance products, insurance-based capital market instruments, and supplementary risk management services to Property & Casualty and Life & Health clients and brokers around the globe. Swiss Reinsurance Company Ltd headquartered in Zurich, Switzerland. "
A number of other research analysts have also recently issued reports on the company. Royal Bank of Canada reaffirmed a neutral rating on shares of SWISS RE Ltd/S in a report on Friday, May 4th. Barclays reaffirmed a buy rating on shares of SWISS RE Ltd/S in a report on Tuesday, May 8th. One research analyst has rated the stock with a sell rating, five have given a hold rating and two have issued a buy rating to the stock. SWISS RE Ltd/S has an average rating of Hold and a consensus target price of $28.00.
Shares of OTCMKTS:SSREY traded down $0.21 on Friday, hitting $21.97. The stock had a trading volume of 26,761 shares, compared to its average volume of 39,995. SWISS RE Ltd/S has a twelve month low of $21.16 and a twelve month high of $26.32. The company has a debt-to-equity ratio of 0.30, a quick ratio of 0.25 and a current ratio of 0.25.
SWISS RE Ltd/S Company Profile
Swiss Re Ltd, together with its subsidiaries, provides wholesale reinsurance, insurance, and other insurance-based forms of risk transfer worldwide. The company operates through four segments: Property & Casualty Reinsurance, Life & Health Reinsurance, Corporate Solutions, and Life Capital. It underwrites casualty, property and specialty, agriculture, aviation, engineering, marine, life and health, retakaful, solvency II, and facultative reinsurance products, as well as trade credit, surety, and political risk reinsurance; structured reinsurance solutions; and insurance-linked securities.
Further Reading: Analyst Ratings
Get a free copy of the Zacks research report on SWISS RE Ltd/S (SSREY)
For more information about research offerings from Zacks Investment Research, visit Zacks.com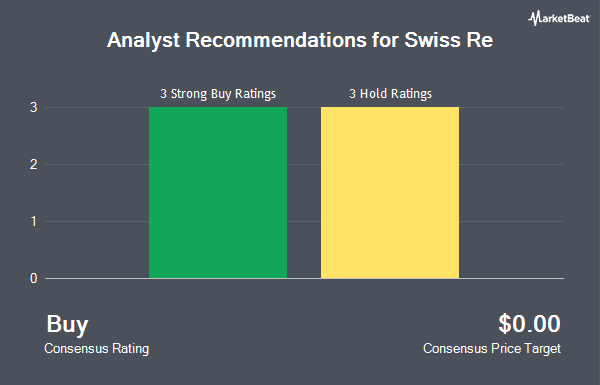 Receive News & Ratings for SWISS RE Ltd/S Daily - Enter your email address below to receive a concise daily summary of the latest news and analysts' ratings for SWISS RE Ltd/S and related companies with MarketBeat.com's FREE daily email newsletter.