Shares of Crest Nicholson Holdings PLC (LON:CRST) have been assigned an average recommendation of "Buy" from the twelve research firms that are currently covering the company, Marketbeat reports. Five investment analysts have rated the stock with a hold recommendation and seven have issued a buy recommendation on the company. The average 1 year target price among brokerages that have issued a report on the stock in the last year is GBX 535.13 ($6.83).
Several equities analysts have recently issued reports on the company. Deutsche Bank reissued a "hold" rating on shares of Crest Nicholson in a report on Friday. Shore Capital reissued a "buy" rating on shares of Crest Nicholson in a report on Tuesday, June 12th. Liberum Capital assumed coverage on Crest Nicholson in a report on Thursday, June 21st. They issued a "buy" rating and a GBX 528 ($6.74) price objective for the company. JPMorgan Chase & Co. decreased their price objective on Crest Nicholson from GBX 550 ($7.02) to GBX 500 ($6.38) and set a "neutral" rating for the company in a report on Friday, May 18th. Finally, Peel Hunt cut Crest Nicholson to a "hold" rating and decreased their price objective for the company from GBX 660 ($8.42) to GBX 520 ($6.63) in a report on Wednesday, May 16th.
In other Crest Nicholson news, insider Leslie Van de Walle purchased 12,000 shares of Crest Nicholson stock in a transaction that occurred on Tuesday, June 12th. The stock was bought at an average price of GBX 421 ($5.37) per share, with a total value of £50,520 ($64,447.00).
Crest Nicholson stock traded up GBX 7 ($0.09) during trading hours on Tuesday, hitting GBX 386.80 ($4.93). 974,097 shares of the stock traded hands, compared to its average volume of 1,510,000. Crest Nicholson has a 1 year low of GBX 466.81 ($5.95) and a 1 year high of GBX 648.50 ($8.27).
Crest Nicholson (LON:CRST) last posted its quarterly earnings results on Tuesday, June 12th. The company reported GBX 23.80 ($0.30) earnings per share for the quarter. Crest Nicholson had a return on equity of 27.35% and a net margin of 17.08%.
The firm also recently declared a dividend, which will be paid on Friday, October 5th. Investors of record on Thursday, September 20th will be issued a GBX 11.20 ($0.14) dividend. The ex-dividend date is Thursday, September 20th. This represents a yield of 2.62%.
About Crest Nicholson
Crest Nicholson Holdings plc engages in builds homes in the United Kingdom. It develops apartments, houses, regeneration schemes, and garden villages; and commercial properties. The company serves first-time buyers, families, and investors. Crest Nicholson Holdings plc was founded in 1963 and is headquartered in Chertsey, the United Kingdom.
Featured Article: How to Use the New Google Finance Tool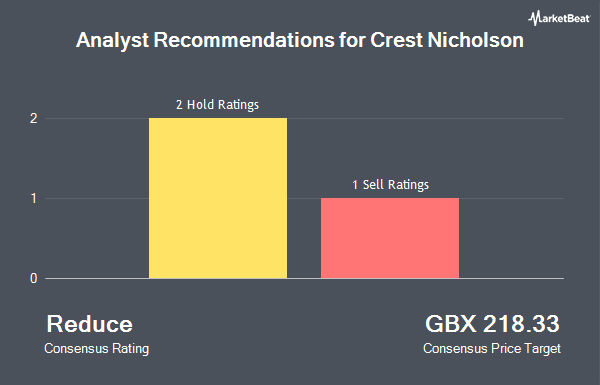 Receive News & Ratings for Crest Nicholson Daily - Enter your email address below to receive a concise daily summary of the latest news and analysts' ratings for Crest Nicholson and related companies with MarketBeat.com's FREE daily email newsletter.