Peel Hunt reissued their add rating on shares of Hastings Group (LON:HSTG) in a research report sent to investors on Wednesday. Peel Hunt currently has a GBX 300 ($3.83) price target on the stock.
A number of other analysts have also weighed in on the company. Numis Securities started coverage on Hastings Group in a research note on Thursday, April 26th. They issued an add rating and a GBX 295 ($3.76) target price for the company. HSBC upgraded Hastings Group to a hold rating in a research note on Wednesday, May 9th. JPMorgan Chase & Co. reiterated a neutral rating and issued a GBX 315 ($4.02) price objective (down from GBX 335 ($4.27)) on shares of Hastings Group in a research report on Tuesday, July 3rd. Berenberg Bank lowered their price objective on Hastings Group from GBX 334 ($4.26) to GBX 310 ($3.95) and set a buy rating for the company in a research report on Wednesday, July 25th. Finally, Shore Capital reiterated an under review rating on shares of Hastings Group in a research report on Wednesday, August 8th. One research analyst has rated the stock with a sell rating, six have assigned a hold rating and three have given a buy rating to the stock. The stock presently has an average rating of Hold and an average price target of GBX 301.20 ($3.84).
Shares of LON:HSTG opened at GBX 266.80 ($3.40) on Wednesday. Hastings Group has a twelve month low of GBX 244 ($3.11) and a twelve month high of GBX 336.70 ($4.30).
The firm also recently disclosed a dividend, which will be paid on Friday, November 9th. Stockholders of record on Thursday, October 4th will be issued a dividend of GBX 4.50 ($0.06) per share. This represents a dividend yield of 1.8%. The ex-dividend date of this dividend is Thursday, October 4th.
In other news, insider Richard Hoskins sold 250,000 shares of Hastings Group stock in a transaction dated Wednesday, August 8th. The stock was sold at an average price of GBX 245 ($3.13), for a total transaction of £612,500 ($781,349.66).
Hastings Group Company Profile
Hastings Group Holdings plc, together with its subsidiaries, provides general insurance products in the United Kingdom. The company operates in two segments, Underwriting and Retail. It is involved in the underwriting and brokerage of car, van, bike, and home insurance under various brands, including Hastings Direct, Hastings PREMIER, Hastings ESSENTIAL, Hastings Direct SmartMiles, InsurePink, and People's Choice.
Featured Story: Short Selling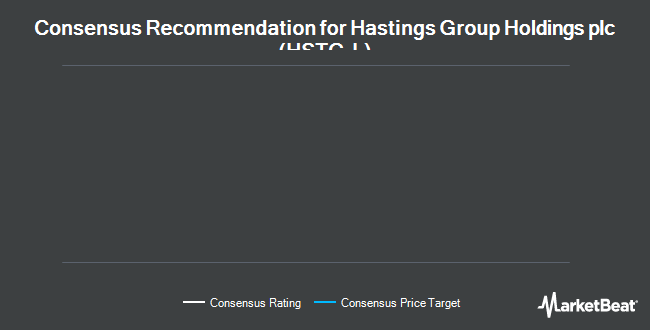 Receive News & Ratings for Hastings Group Daily - Enter your email address below to receive a concise daily summary of the latest news and analysts' ratings for Hastings Group and related companies with MarketBeat.com's FREE daily email newsletter.