Kingfisher (LON:KGF) had its price target reduced by research analysts at Deutsche Bank from GBX 315 ($4.02) to GBX 305 ($3.89) in a report issued on Friday. The brokerage presently has a "hold" rating on the home improvement retailer's stock. Deutsche Bank's price target indicates a potential upside of 11.60% from the company's previous close.
KGF has been the subject of several other reports. JPMorgan Chase & Co. lifted their price objective on Kingfisher from GBX 275 ($3.51) to GBX 302 ($3.85) and gave the stock an "underweight" rating in a report on Monday, April 30th. HSBC reaffirmed a "buy" rating on shares of Kingfisher in a report on Monday, July 9th. Credit Suisse Group reaffirmed an "outperform" rating and set a GBX 385 ($4.91) price objective on shares of Kingfisher in a report on Friday, May 18th. Citigroup raised Kingfisher to a "neutral" rating in a report on Wednesday, July 25th. Finally, Royal Bank of Canada reaffirmed a "sector performer" rating and set a GBX 330 ($4.21) price objective on shares of Kingfisher in a report on Thursday. Four research analysts have rated the stock with a sell rating, five have assigned a hold rating and seven have assigned a buy rating to the company. Kingfisher currently has a consensus rating of "Hold" and an average target price of GBX 333.58 ($4.26).
Shares of KGF stock opened at GBX 273.30 ($3.49) on Friday. Kingfisher has a 1 year low of GBX 285.30 ($3.64) and a 1 year high of GBX 369.80 ($4.72).
Kingfisher Company Profile
Kingfisher plc, together with its subsidiaries, supplies DIY and home improvement products and services primarily in the United Kingdom and continental Europe. The company operates approximately 1,300 stores in 10 countries across Europe under the B&Q, Castorama, Brico Dépôt, Screwfix, and Koctas brands.
Recommended Story: Average Daily Trade Volume Explained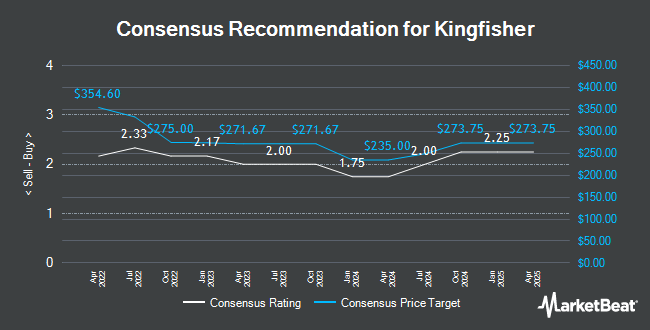 Receive News & Ratings for Kingfisher Daily - Enter your email address below to receive a concise daily summary of the latest news and analysts' ratings for Kingfisher and related companies with MarketBeat.com's FREE daily email newsletter.