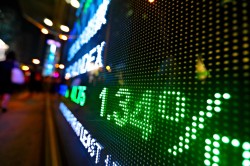 CIBC World Markets Inc. purchased a new stake in Invesco Shipping ETF (NYSEARCA:SEA) during the 2nd quarter, HoldingsChannel.com reports. The firm purchased 477,557 shares of the exchange traded fund's stock, valued at approximately $4,852,000. CIBC World Markets Inc. owned 0.07% of Invesco Shipping ETF at the end of the most recent quarter.
Shares of NYSEARCA:SEA opened at $9.83 on Monday. Invesco Shipping ETF has a 52-week low of $9.57 and a 52-week high of $12.40.
Invesco Shipping ETF Company Profile
Guggenheim Shipping ETF (the Fund) seeks investment results that correspond generally to the performance of Delta Global Shipping Index (the Index). The Index is designed to measure the performance of companies listed on global developed market exchanges and consists of companies within the maritime shipping industry.
Recommended Story: How to Invest in Growth Stocks
Want to see what other hedge funds are holding SEA? Visit HoldingsChannel.com to get the latest 13F filings and insider trades for Invesco Shipping ETF (NYSEARCA:SEA).
Receive News & Ratings for Invesco Shipping ETF Daily - Enter your email address below to receive a concise daily summary of the latest news and analysts' ratings for Invesco Shipping ETF and related companies with MarketBeat.com's FREE daily email newsletter.