Guyana Goldfields Inc. (TSE:GUY) Director Scott Andrew Caldwell acquired 30,000 shares of the firm's stock in a transaction on Thursday, August 16th. The stock was purchased at an average price of C$2.92 per share, for a total transaction of C$87,600.00.
GUY traded up C$0.01 during mid-day trading on Monday, reaching C$3.64. The stock had a trading volume of 451,614 shares, compared to its average volume of 488,202. Guyana Goldfields Inc. has a 52 week low of C$3.50 and a 52 week high of C$5.42.
Guyana Goldfields (TSE:GUY) last announced its quarterly earnings data on Monday, July 30th. The company reported C$0.01 EPS for the quarter, meeting the Zacks' consensus estimate of C$0.01. The firm had revenue of C$53.17 million for the quarter. Guyana Goldfields had a return on equity of 14.96% and a net margin of 22.82%.
About Guyana Goldfields
Guyana Goldfields Inc engages in the investment, acquisition, exploration, development, and operation of gold properties in Guyana, South America. It primarily owns a 100% interest in the Aurora gold project located in Guyana. The company also holds a contiguous 216,995 acre land package located in the Aranka district of Guyana.
See Also: Leveraged Buyout (LBO) Explained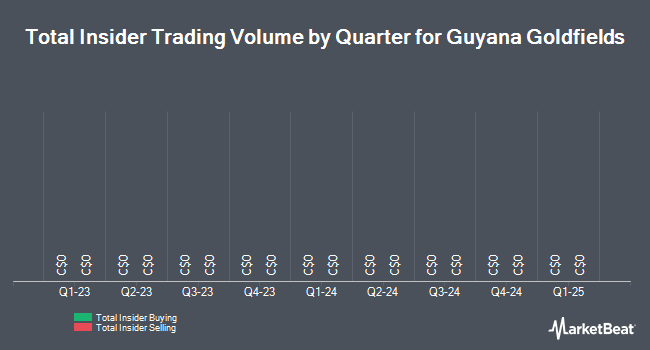 Receive News & Ratings for Guyana Goldfields Daily - Enter your email address below to receive a concise daily summary of the latest news and analysts' ratings for Guyana Goldfields and related companies with MarketBeat.com's FREE daily email newsletter.