Vermillion, Inc. (NASDAQ:VRML) Director James T. Lafrance sold 23,400 shares of the business's stock in a transaction on Monday, August 20th. The stock was sold at an average price of $0.50, for a total value of $11,700.00. Following the completion of the transaction, the director now directly owns 318,845 shares in the company, valued at approximately $159,422.50. The transaction was disclosed in a legal filing with the Securities & Exchange Commission, which is available at this hyperlink.
VRML stock traded up $0.01 during midday trading on Tuesday, hitting $0.59. The company's stock had a trading volume of 183,200 shares, compared to its average volume of 124,032. The company has a debt-to-equity ratio of 0.11, a current ratio of 5.74 and a quick ratio of 5.70. Vermillion, Inc. has a 1 year low of $0.47 and a 1 year high of $2.10.
Vermillion (NASDAQ:VRML) last issued its quarterly earnings results on Thursday, August 9th. The company reported ($0.04) EPS for the quarter, meeting analysts' consensus estimates of ($0.04). Vermillion had a negative return on equity of 201.03% and a negative net margin of 398.14%. The firm had revenue of $0.71 million for the quarter.
A hedge fund recently bought a new stake in Vermillion stock. Manatuck Hill Partners LLC purchased a new stake in shares of Vermillion, Inc. (NASDAQ:VRML) during the second quarter, according to the company in its most recent disclosure with the Securities and Exchange Commission. The institutional investor purchased 379,700 shares of the company's stock, valued at approximately $296,000. Manatuck Hill Partners LLC owned about 0.50% of Vermillion at the end of the most recent reporting period. Hedge funds and other institutional investors own 25.17% of the company's stock.
Several research firms have weighed in on VRML. ValuEngine raised Vermillion from a "sell" rating to a "hold" rating in a research report on Wednesday, May 2nd. Canaccord Genuity cut Vermillion from a "buy" rating to a "hold" rating and set a $2.25 price objective on the stock. in a research report on Thursday, May 24th.
About Vermillion
Vermillion, Inc, together with its subsidiaries, discovers, develops, and commercializes diagnostic and bio-analytical solutions that help physicians to diagnose, treat, and enhance gynecologic health outcomes for women primarily in the United States. The company's diagnostic tests include OVA1, a blood test for the pre-surgical identification of women who are at high risk of having a malignant ovarian tumor; and Overa, a multivariate index assay second generation test to determine the malignancy of ovarian cancer in women.
Featured Article: Do Tariffs Work?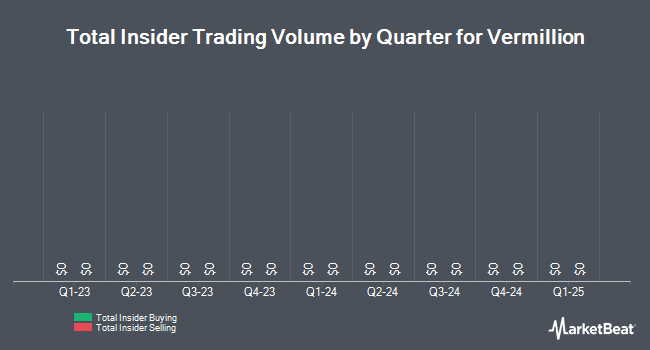 Receive News & Ratings for Vermillion Daily - Enter your email address below to receive a concise daily summary of the latest news and analysts' ratings for Vermillion and related companies with MarketBeat.com's FREE daily email newsletter.