Equities research analysts expect Dynavax Technologies Co. (NASDAQ:DVAX) to report sales of $3.55 million for the current quarter, according to Zacks. Two analysts have issued estimates for Dynavax Technologies' earnings, with estimates ranging from $3.00 million to $4.10 million. Dynavax Technologies reported sales of $50,000.00 during the same quarter last year, which would suggest a positive year over year growth rate of 7,000%. The company is expected to issue its next quarterly earnings report on Friday, November 2nd.
According to Zacks, analysts expect that Dynavax Technologies will report full-year sales of $11.62 million for the current year, with estimates ranging from $7.96 million to $15.27 million. For the next fiscal year, analysts expect that the firm will post sales of $93.41 million per share, with estimates ranging from $88.23 million to $98.58 million. Zacks Investment Research's sales averages are an average based on a survey of analysts that follow Dynavax Technologies.
Dynavax Technologies (NASDAQ:DVAX) last issued its earnings results on Monday, August 6th. The biopharmaceutical company reported ($0.63) earnings per share (EPS) for the quarter, missing analysts' consensus estimates of ($0.62) by ($0.01). Dynavax Technologies had a negative return on equity of 72.31% and a negative net margin of 8,570.06%. The firm had revenue of $1.25 million during the quarter, compared to analyst estimates of $1.88 million. During the same period in the previous year, the company earned ($0.41) EPS. Dynavax Technologies's revenue for the quarter was up 1094.3% on a year-over-year basis.
DVAX has been the topic of a number of analyst reports. ValuEngine lowered Dynavax Technologies from a "hold" rating to a "sell" rating in a research report on Tuesday, May 1st. Cantor Fitzgerald reiterated a "buy" rating and issued a $27.00 price target on shares of Dynavax Technologies in a research report on Tuesday, May 8th. JPMorgan Chase & Co. upgraded Dynavax Technologies from a "neutral" rating to an "overweight" rating and set a $25.00 price target on the stock in a research report on Thursday, May 10th. Finally, BidaskClub lowered Dynavax Technologies from a "hold" rating to a "sell" rating in a research report on Friday, May 11th. Two analysts have rated the stock with a sell rating, one has given a hold rating and four have assigned a buy rating to the stock. The company presently has a consensus rating of "Hold" and an average target price of $27.50.
Shares of NASDAQ DVAX traded up $0.20 during trading on Friday, reaching $13.00. The company had a trading volume of 2,520 shares, compared to its average volume of 1,102,710. Dynavax Technologies has a 12 month low of $12.07 and a 12 month high of $24.45. The firm has a market capitalization of $788.96 million, a PE ratio of -7.40 and a beta of 0.29. The company has a current ratio of 8.87, a quick ratio of 8.67 and a debt-to-equity ratio of 0.76.
In other Dynavax Technologies news, insider Michael S. Ostrach sold 4,000 shares of the company's stock in a transaction dated Friday, June 8th. The stock was sold at an average price of $15.53, for a total value of $62,120.00. Following the sale, the insider now owns 80,554 shares in the company, valued at approximately $1,251,003.62. The transaction was disclosed in a filing with the Securities & Exchange Commission, which is available at this link. Insiders own 3.47% of the company's stock.
Several institutional investors have recently made changes to their positions in DVAX. Tiverton Asset Management LLC bought a new stake in shares of Dynavax Technologies during the 2nd quarter valued at about $184,000. WINTON GROUP Ltd bought a new position in Dynavax Technologies in the first quarter worth approximately $199,000. Xact Kapitalforvaltning AB bought a new position in Dynavax Technologies in the first quarter worth approximately $200,000. Commonwealth Equity Services LLC bought a new position in Dynavax Technologies in the first quarter worth approximately $212,000. Finally, Bank of Montreal Can boosted its holdings in Dynavax Technologies by 365.4% in the second quarter. Bank of Montreal Can now owns 13,938 shares of the biopharmaceutical company's stock worth $213,000 after acquiring an additional 10,943 shares in the last quarter. Institutional investors own 83.79% of the company's stock.
Dynavax Technologies Company Profile
Dynavax Technologies Corporation, a biopharmaceutical company, focuses on leveraging the power of the body's innate and adaptive immune responses through toll-like receptor (TLR) stimulation. The company's lead product candidates include HEPLISAV-B, a hepatitis B vaccine for prevention of infection caused by all known subtypes of the virus in adults age 18 years and older; SD-101, a cancer immunotherapy that is in Phase 2 clinical studies; and DV281, an investigational TLR9 agonist for the treatment of non-small cell lung cancer.
Read More: Short Selling Stocks, A Beginner's Guide
Get a free copy of the Zacks research report on Dynavax Technologies (DVAX)
For more information about research offerings from Zacks Investment Research, visit Zacks.com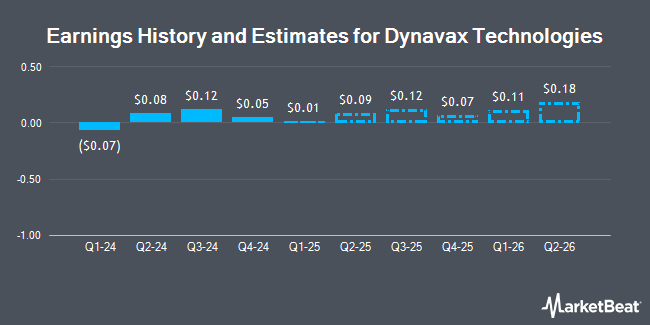 Receive News & Ratings for Dynavax Technologies Daily - Enter your email address below to receive a concise daily summary of the latest news and analysts' ratings for Dynavax Technologies and related companies with MarketBeat.com's FREE daily email newsletter.