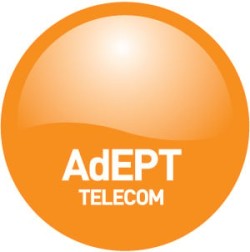 AdEPT Telecom plc (LON:ADT) insider Ian Michael Fishwick purchased 10,196 shares of the stock in a transaction dated Monday, August 20th. The stock was purchased at an average cost of GBX 373 ($4.77) per share, for a total transaction of £38,031.08 ($48,614.44).
Shares of LON:ADT opened at GBX 366 ($4.68) on Wednesday. AdEPT Telecom plc has a 1 year low of GBX 256.20 ($3.27) and a 1 year high of GBX 385 ($4.92).
The company also recently declared a dividend, which will be paid on Monday, October 8th. Stockholders of record on Thursday, September 27th will be paid a GBX 4.50 ($0.06) dividend. The ex-dividend date is Thursday, September 27th. This is a positive change from AdEPT Telecom's previous dividend of $4.25. This represents a dividend yield of 1.26%.
Separately, Northland Securities reaffirmed a "buy" rating on shares of AdEPT Telecom in a research note on Tuesday, July 10th.
About AdEPT Telecom
AdEPT Telecom plc provides voice and data telecommunication services to small and medium-sized business customers in the United Kingdom. The company operates through two segments, Fixed Line Services and Managed Services. It offers landline call, line rental, broadband, IT, and mobile and data connectivity services, as well as IP telephony, and support and maintenance services.
Further Reading: Closed-End Mutual Funds (CEFs)

Receive News & Ratings for AdEPT Telecom Daily - Enter your email address below to receive a concise daily summary of the latest news and analysts' ratings for AdEPT Telecom and related companies with MarketBeat.com's FREE daily email newsletter.