Intersections (NASDAQ:INTX) posted its quarterly earnings data on Monday. The business services provider reported ($0.02) EPS for the quarter, Bloomberg Earnings reports. The firm had revenue of $38.62 million during the quarter.
Shares of INTX opened at $1.35 on Wednesday. The company has a current ratio of 1.08, a quick ratio of 1.08 and a debt-to-equity ratio of 31.06. Intersections has a one year low of $1.29 and a one year high of $3.68.
About Intersections
Intersections Inc provides identity risk management and privacy protection services in the United States and Canada. The company's Personal Information Services segment offers privacy, personal information security, and identity theft monitoring and remediation services for consumers to understand, monitor, manage, and protect against the risks associated with their personal information.
Featured Article: Stock Symbols and CUSIP Explained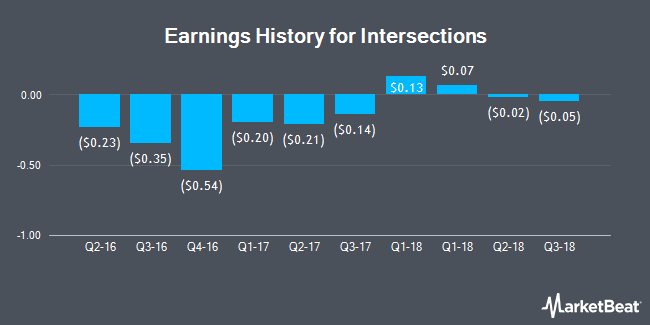 Receive News & Ratings for Intersections Daily - Enter your email address below to receive a concise daily summary of the latest news and analysts' ratings for Intersections and related companies with MarketBeat.com's FREE daily email newsletter.