Thompson Siegel & Walmsley LLC trimmed its holdings in shares of Bank of America Corp (NYSE:BAC) by 5.1% during the second quarter, HoldingsChannel.com reports. The firm owned 274,865 shares of the financial services provider's stock after selling 14,725 shares during the quarter. Thompson Siegel & Walmsley LLC's holdings in Bank of America were worth $7,748,000 as of its most recent filing with the Securities and Exchange Commission (SEC).
Several other hedge funds and other institutional investors have also added to or reduced their stakes in the company. McKinley Carter Wealth Services Inc. bought a new stake in Bank of America in the 1st quarter valued at about $105,000. Quad Cities Investment Group LLC bought a new stake in Bank of America in the 2nd quarter valued at about $112,000. Ballew Advisors Inc bought a new stake in Bank of America in the 1st quarter valued at about $129,000. Whitnell & Co. bought a new stake in Bank of America in the 2nd quarter valued at about $134,000. Finally, Well Done LLC bought a new stake in Bank of America in the 1st quarter valued at about $136,000. Institutional investors own 65.10% of the company's stock.
In related news, insider Catherine P. Bessant sold 15,820 shares of the business's stock in a transaction dated Thursday, August 9th. The stock was sold at an average price of $31.61, for a total value of $500,070.20. Following the sale, the insider now directly owns 483,680 shares in the company, valued at approximately $15,289,124.80. The sale was disclosed in a document filed with the Securities & Exchange Commission, which is available at this hyperlink. Insiders own 0.10% of the company's stock.
Shares of Bank of America stock opened at $31.14 on Thursday. Bank of America Corp has a 52-week low of $22.75 and a 52-week high of $33.05. The stock has a market capitalization of $320.73 billion, a P/E ratio of 17.02, a PEG ratio of 1.55 and a beta of 1.29. The company has a current ratio of 0.91, a quick ratio of 0.90 and a debt-to-equity ratio of 0.94.
Bank of America (NYSE:BAC) last announced its quarterly earnings data on Monday, July 16th. The financial services provider reported $0.63 earnings per share (EPS) for the quarter, beating the Zacks' consensus estimate of $0.57 by $0.06. Bank of America had a return on equity of 10.06% and a net margin of 20.86%. The business had revenue of $22.60 billion for the quarter, compared to analysts' expectations of $22.49 billion. During the same period in the previous year, the business posted $0.46 EPS. The firm's quarterly revenue was down .9% compared to the same quarter last year. sell-side analysts forecast that Bank of America Corp will post 2.52 EPS for the current year.
Bank of America announced that its Board of Directors has initiated a share buyback plan on Thursday, June 28th that permits the company to repurchase $20.60 billion in outstanding shares. This repurchase authorization permits the financial services provider to repurchase up to 7.1% of its stock through open market purchases. Stock repurchase plans are generally a sign that the company's board believes its stock is undervalued.
The company also recently disclosed a quarterly dividend, which will be paid on Friday, September 28th. Investors of record on Friday, September 7th will be paid a $0.15 dividend. This is a boost from Bank of America's previous quarterly dividend of $0.12. This represents a $0.60 dividend on an annualized basis and a yield of 1.93%. The ex-dividend date of this dividend is Thursday, September 6th. Bank of America's payout ratio is currently 26.23%.
Bank of America Company Profile
Bank of America Corporation, through its subsidiaries, provides banking and financial products and services for individual consumers, small- and middle-market businesses, institutional investors, large corporations, and governments worldwide. It operates through four segments: Consumer Banking, Global Wealth & Investment Management (GWIM), Global Banking, and Global Markets.
Read More: What is a closed-end mutual fund (CEF)?

Want to see what other hedge funds are holding BAC? Visit HoldingsChannel.com to get the latest 13F filings and insider trades for Bank of America Corp (NYSE:BAC).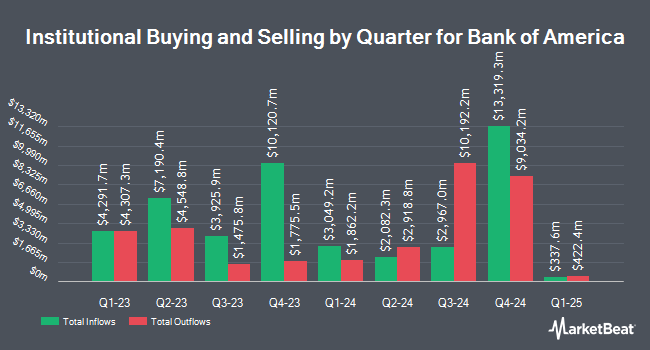 Receive News & Ratings for Bank of America Daily - Enter your email address below to receive a concise daily summary of the latest news and analysts' ratings for Bank of America and related companies with MarketBeat.com's FREE daily email newsletter.