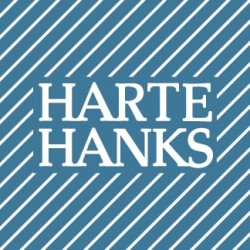 Harte Hanks (NYSE:HHS) has been assigned a $15.00 price target by stock analysts at Noble Financial in a research report issued to clients and investors on Thursday. The firm presently has a "buy" rating on the business services provider's stock. Noble Financial's price objective would indicate a potential upside of 77.34% from the company's current price.
Other equities analysts also recently issued research reports about the stock. Zacks Investment Research downgraded shares of Harte Hanks from a "strong-buy" rating to a "hold" rating in a report on Wednesday, July 11th. ValuEngine raised shares of Harte Hanks from a "sell" rating to a "hold" rating in a report on Monday, June 18th.
NYSE:HHS traded down $0.29 during trading hours on Thursday, hitting $8.46. 1,968 shares of the stock traded hands, compared to its average volume of 20,247. Harte Hanks has a 1 year low of $6.76 and a 1 year high of $12.16. The company has a market capitalization of $50.68 million, a P/E ratio of -7.05 and a beta of 0.78.
Harte Hanks (NYSE:HHS) last issued its quarterly earnings results on Wednesday, August 8th. The business services provider reported ($1.10) earnings per share for the quarter, missing the consensus estimate of ($0.63) by ($0.47). Harte Hanks had a negative net margin of 1.72% and a negative return on equity of 33.47%. The firm had revenue of $69.63 million for the quarter, compared to analysts' expectations of $79.50 million. research analysts expect that Harte Hanks will post -0.53 EPS for the current year.
A hedge fund recently bought a new stake in Harte Hanks stock. Eidelman Virant Capital bought a new position in Harte Hanks Inc (NYSE:HHS) during the 2nd quarter, according to the company in its most recent Form 13F filing with the Securities & Exchange Commission. The fund bought 207,702 shares of the business services provider's stock, valued at approximately $2,305,000. Harte Hanks makes up about 1.4% of Eidelman Virant Capital's holdings, making the stock its 25th biggest holding. Eidelman Virant Capital owned approximately 3.32% of Harte Hanks at the end of the most recent reporting period. Institutional investors own 34.85% of the company's stock.
About Harte Hanks
Harte Hanks, Inc provides various multi-channel marketing services in the United States and internationally. The company provides agency and digital services, including search engine management, display, digital analytics, Website development and design, digital strategy, social media, email, e-commerce, and interactive relationship management services; and database marketing and business-to-business lead generation solutions that offer insight and analytics, customer data integration, and marketing communications tools.
Featured Article: How do investors use RSI to grade stocks?
Receive News & Ratings for Harte Hanks Daily - Enter your email address below to receive a concise daily summary of the latest news and analysts' ratings for Harte Hanks and related companies with MarketBeat.com's FREE daily email newsletter.