Imperial Capital initiated coverage on shares of Arlo Technologies (NYSE:ARLO) in a research note released on Tuesday, MarketBeat Ratings reports. The brokerage issued an outperform rating and a $39.00 price target on the stock. Imperial Capital also issued estimates for Arlo Technologies' Q3 2018 earnings at ($0.18) EPS, Q4 2018 earnings at ($0.19) EPS, FY2018 earnings at ($0.36) EPS, Q1 2019 earnings at ($0.11) EPS, Q2 2019 earnings at ($0.06) EPS, Q3 2019 earnings at $0.02 EPS, Q4 2019 earnings at $0.04 EPS, FY2019 earnings at ($0.10) EPS, FY2020 earnings at $0.21 EPS and FY2021 earnings at $0.81 EPS.
"We are initiating coverage of ARLO shares with an Outperform rating and a one-year price target of $39. Our price target is about 70% above the recent share price. California, ARLO is the leading provider of do-it-yourself (DIY) cameras in North America retail. With over 8.6 million devices shipped, and over 2.2 million registered users, Arlo controls 48% market share, as of July 2018, based on dollar sales in the U.S. consumer market. Initial Public Offering terms and use of proceeds."," Imperial Capital's analyst commented.
Shares of NYSE ARLO opened at $19.78 on Tuesday. Arlo Technologies has a 1 year low of $18.30 and a 1 year high of $23.77.
In other Arlo Technologies news, Director Patrick Cs Lo purchased 25,000 shares of the stock in a transaction that occurred on Tuesday, August 7th. The stock was bought at an average cost of $16.00 per share, with a total value of $400,000.00. The transaction was disclosed in a document filed with the SEC, which is available through the SEC website. Also, CFO Christine Marie Gorjanc purchased 5,000 shares of the stock in a transaction that occurred on Tuesday, August 7th. The shares were acquired at an average cost of $16.00 per share, with a total value of $80,000.00. The disclosure for this purchase can be found here. Over the last three months, insiders have purchased 32,500 shares of company stock valued at $520,000.
About Arlo Technologies
Arlo Technologies, Inc provides smart connected devices to monitor the environments in real-time with a Wi-Fi or a cellular network Internet connection in the Americas, Europe, the Middle-East and Africa, and the Asia Pacific regions. It offers Arlo Security Camera, a battery-operated Wi-Fi security camera; Arlo Q and Arlo Q Plus, an indoor wired solution that allow users to monitor their surroundings; Arlo Pro, a battery-operated weather-resistant Wi-Fi camera; Arlo Go, an LTE-enabled wire-free camera that provides untethered mobile monitoring; and Arlo Baby, a baby monitor with air quality and temperature sensors, motion and audio detection, and advanced night vision.
Read More: Short Selling Stocks and Day Traders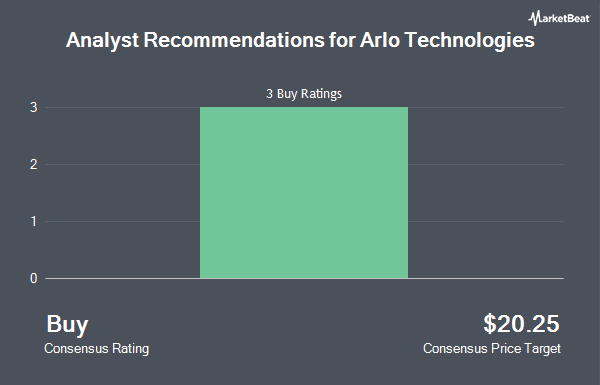 Receive News & Ratings for Arlo Technologies Daily - Enter your email address below to receive a concise daily summary of the latest news and analysts' ratings for Arlo Technologies and related companies with MarketBeat.com's FREE daily email newsletter.