Cloudera (NYSE:CLDR) issued an update on its FY19 earnings guidance on Wednesday morning. The company provided earnings per share (EPS) guidance of ($0.53)-($0.50) for the period, compared to the Thomson Reuters consensus estimate of ($0.59). The company issued revenue guidance of $440-$450 million, compared to the consensus revenue estimate of $441.69 million.Cloudera also updated its Q3 guidance to ($0.12)-($0.10) EPS.
Shares of NYSE:CLDR opened at $14.41 on Thursday. Cloudera has a twelve month low of $12.57 and a twelve month high of $22.42. The company has a market cap of $2.22 billion, a PE ratio of -4.46 and a beta of 0.94.
Cloudera (NYSE:CLDR) last issued its earnings results on Wednesday, September 5th. The company reported ($0.08) earnings per share for the quarter, topping analysts' consensus estimates of ($0.15) by $0.07. Cloudera had a negative return on equity of 64.55% and a negative net margin of 54.93%. The company had revenue of $110.30 million for the quarter, compared to analyst estimates of $107.68 million. During the same period in the prior year, the firm earned ($0.17) earnings per share. Cloudera's revenue for the quarter was up 22.8% on a year-over-year basis. research analysts predict that Cloudera will post -1.33 EPS for the current fiscal year.
A number of equities analysts have recently weighed in on CLDR shares. Zacks Investment Research raised Cloudera from a hold rating to a buy rating and set a $17.00 target price on the stock in a research report on Tuesday, June 12th. DA Davidson upped their price target on Cloudera from $14.00 to $15.00 and gave the stock a hold rating in a report on Friday, June 8th. Morgan Stanley upped their price target on Cloudera from $16.00 to $17.00 and gave the stock a hold rating in a report on Thursday, June 7th. Rosenblatt Securities started coverage on Cloudera in a report on Monday, July 9th. They set a neutral rating and a $17.00 price target for the company. Finally, Nomura started coverage on Cloudera in a report on Thursday, June 14th. They set a reduce rating and a $12.00 price target for the company. One analyst has rated the stock with a sell rating, eight have issued a hold rating and seven have given a buy rating to the company. The company has an average rating of Hold and a consensus price target of $18.77.
In related news, insider Michael Olson sold 27,619 shares of the company's stock in a transaction on Thursday, July 5th. The stock was sold at an average price of $13.92, for a total transaction of $384,456.48. The sale was disclosed in a filing with the Securities & Exchange Commission, which is accessible through the SEC website. Insiders have sold 138,095 shares of company stock valued at $2,006,797 in the last quarter. 30.90% of the stock is currently owned by corporate insiders.
About Cloudera
Cloudera, Inc provides platform for machine learning and analytics in the United States, Europe, and Asia. The company operates through two segments, Subscription and Services. Its platform delivers an integrated suite of capabilities for data management, machine learning, and analytics to customers for transforming their businesses.
Read More: Growth Stocks, What They Are, What They Are Not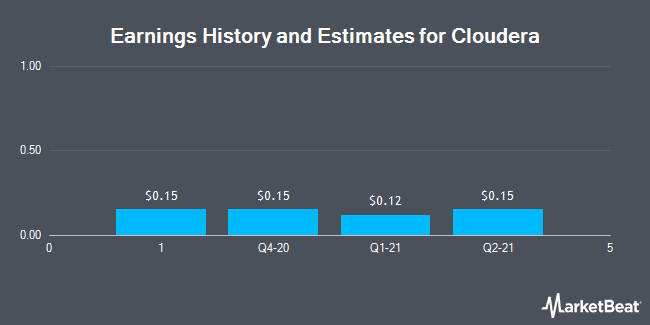 Receive News & Ratings for Cloudera Daily - Enter your email address below to receive a concise daily summary of the latest news and analysts' ratings for Cloudera and related companies with MarketBeat.com's FREE daily email newsletter.