Itau Unibanco Holding S.A. lifted its position in Convergys Corp (NYSE:CVG) by 564.8% during the 2nd quarter, according to its most recent disclosure with the SEC. The fund owned 14,040 shares of the business services provider's stock after purchasing an additional 11,928 shares during the period. Itau Unibanco Holding S.A.'s holdings in Convergys were worth $343,000 as of its most recent SEC filing.
Other institutional investors have also recently modified their holdings of the company. Cornerstone Wealth Management LLC bought a new position in shares of Convergys in the second quarter worth approximately $250,000. FMR LLC bought a new stake in Convergys in the second quarter valued at $200,000. Sphinx Trading LP bought a new stake in Convergys in the second quarter valued at $219,000. Cubist Systematic Strategies LLC bought a new stake in Convergys in the first quarter valued at $212,000. Finally, GSA Capital Partners LLP bought a new stake in Convergys in the second quarter valued at $252,000.
CVG opened at $24.65 on Thursday. The company has a quick ratio of 2.22, a current ratio of 2.22 and a debt-to-equity ratio of 0.13. The stock has a market capitalization of $2.25 billion, a PE ratio of 14.90, a P/E/G ratio of 1.95 and a beta of 0.85. Convergys Corp has a 1 year low of $21.13 and a 1 year high of $26.72.
Convergys (NYSE:CVG) last posted its quarterly earnings results on Tuesday, August 7th. The business services provider reported $0.36 earnings per share (EPS) for the quarter, hitting the consensus estimate of $0.36. Convergys had a return on equity of 12.03% and a net margin of 3.24%. The firm had revenue of $649.40 million during the quarter, compared to analyst estimates of $634.83 million. sell-side analysts forecast that Convergys Corp will post 1.69 earnings per share for the current fiscal year.
The firm also recently declared a quarterly dividend, which will be paid on Tuesday, October 2nd. Shareholders of record on Friday, September 21st will be paid a $0.11 dividend. This represents a $0.44 dividend on an annualized basis and a yield of 1.78%. Convergys's dividend payout ratio (DPR) is presently 23.53%.
Several analysts recently weighed in on the stock. Zacks Investment Research upgraded shares of Convergys from a "hold" rating to a "buy" rating and set a $28.00 price target on the stock in a report on Friday, August 17th. Barrington Research reissued a "hold" rating on shares of Convergys in a research report on Tuesday, August 14th. Citigroup raised their price objective on Convergys from $24.00 to $26.50 and gave the company a "neutral" rating in a research report on Friday, June 29th. Finally, ValuEngine lowered Convergys from a "hold" rating to a "sell" rating in a research report on Wednesday, May 9th. One analyst has rated the stock with a sell rating, four have given a hold rating and one has issued a buy rating to the company. Convergys currently has a consensus rating of "Hold" and a consensus target price of $27.13.
Convergys Company Profile
Convergys Corporation provides customer management services to communications and media, technology, financial services, retail, healthcare, government, travel and hospitality, and other vertical markets worldwide. The company offers solutions across the customer lifecycle, including sales, customer service, technical support, customer retention, and collection, as well as security, compliance, and fraud solutions; and solutions in contact center technology comprising omni-channel interaction, cross-channel integration framework, real-time decisioning engine, robotic process automation, intelligent notification, campaign management, personalized care, personalized selling, agent productivity, and retention solutions.
See Also: How Important is Technical Analysis of Stocks
Want to see what other hedge funds are holding CVG? Visit HoldingsChannel.com to get the latest 13F filings and insider trades for Convergys Corp (NYSE:CVG).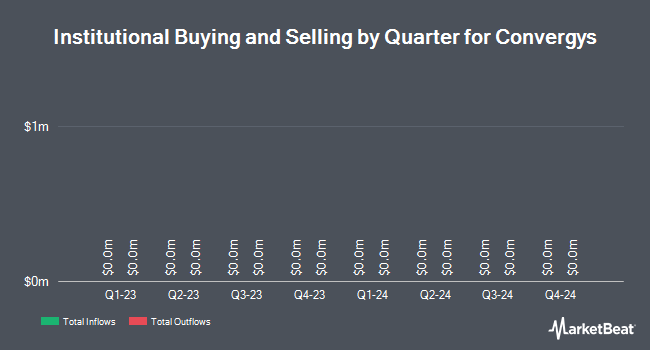 Receive News & Ratings for Convergys Daily - Enter your email address below to receive a concise daily summary of the latest news and analysts' ratings for Convergys and related companies with MarketBeat.com's FREE daily email newsletter.