TD Securities cut shares of Enerflex (TSE:EFX) from an action list buy rating to a buy rating in a research note released on Wednesday morning. The brokerage currently has C$22.00 price objective on the stock, up from their previous price objective of C$21.00.
A number of other equities analysts have also recently issued reports on EFX. AltaCorp Capital reissued an outperform rating on shares of Enerflex in a research report on Tuesday, July 10th. Raymond James increased their price objective on shares of Enerflex from C$21.25 to C$22.00 and gave the stock an outperform rating in a research report on Friday, August 10th. Six analysts have rated the stock with a buy rating, The stock has an average rating of Buy and an average target price of C$21.50.
Shares of EFX opened at C$15.47 on Wednesday. Enerflex has a 12 month low of C$13.55 and a 12 month high of C$19.08.
Enerflex (TSE:EFX) last released its quarterly earnings data on Thursday, August 9th. The company reported C$0.23 earnings per share (EPS) for the quarter, missing the Zacks' consensus estimate of C$0.25 by C($0.02). The company had revenue of C$404.85 million for the quarter, compared to the consensus estimate of C$391.85 million. Enerflex had a return on equity of 9.64% and a net margin of 5.93%.
The business also recently disclosed a quarterly dividend, which will be paid on Thursday, October 4th. Stockholders of record on Thursday, August 23rd will be given a dividend of $0.095 per share. The ex-dividend date of this dividend is Wednesday, August 22nd. This represents a $0.38 dividend on an annualized basis and a dividend yield of 2.46%.
In other news, Director Anna Paravi sold 5,000 shares of the stock in a transaction dated Monday, August 20th. The shares were sold at an average price of C$16.00, for a total transaction of C$80,000.00.
About Enerflex
Enerflex Ltd. supplies natural gas compression, oil and gas processing, refrigeration systems, and electric power equipment in Canada, the United States, and internationally. The company offers engineered systems, including engineering, design, fabrication, and assembly of standard and custom-designed compression, electric power, and processing solutions.
Featured Story: Tariff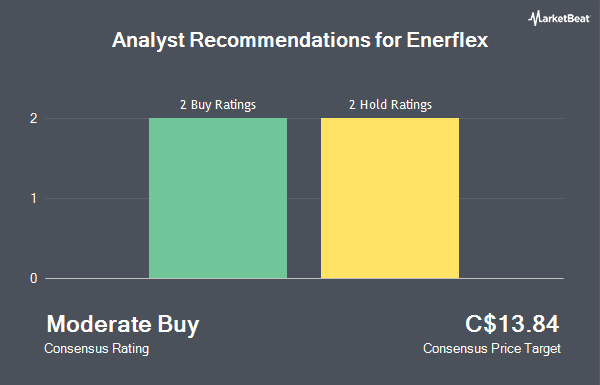 Receive News & Ratings for Enerflex Daily - Enter your email address below to receive a concise daily summary of the latest news and analysts' ratings for Enerflex and related companies with MarketBeat.com's FREE daily email newsletter.