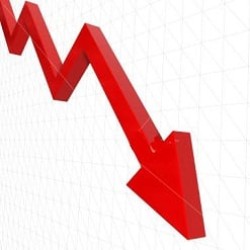 ValuEngine downgraded shares of Bank Hapoalim (OTCMKTS:BKHYY) from a hold rating to a sell rating in a report published on Tuesday morning.
Bank Hapoalim stock opened at $35.51 on Tuesday. The company has a market capitalization of $9.85 billion, a PE ratio of 13.59 and a beta of 0.74. Bank Hapoalim has a 1 year low of $32.20 and a 1 year high of $38.33. The company has a current ratio of 1.04, a quick ratio of 1.04 and a debt-to-equity ratio of 0.81.
About Bank Hapoalim
Bank Hapoalim B.M., together with its subsidiaries, provides a range of banking and financial products and services in Israel and internationally. The company offers account-management services, credits for various purposes, deposits, and savings plans; securities, and currencies and derivatives trading services; securities custody services; research, consulting, and advisory services; pension advisory services; and housing loans.
Further Reading: How Do Tariffs Affect Trade Balances?
To view ValuEngine's full report, visit ValuEngine's official website.
Receive News & Ratings for Bank Hapoalim Daily - Enter your email address below to receive a concise daily summary of the latest news and analysts' ratings for Bank Hapoalim and related companies with MarketBeat.com's FREE daily email newsletter.