Berenberg Bank restated their sell rating on shares of Pearson (LON:PSON) in a report issued on Monday morning. Berenberg Bank currently has a GBX 550 ($7.09) target price on the stock.
PSON has been the topic of several other reports. JPMorgan Chase & Co. reiterated a neutral rating and set a GBX 820 ($10.58) target price on shares of Pearson in a research report on Tuesday, May 8th. Credit Suisse Group lifted their target price on Pearson from GBX 700 ($9.03) to GBX 850 ($10.96) and gave the company a neutral rating in a research report on Wednesday, May 9th. Liberum Capital reiterated a sell rating on shares of Pearson in a research report on Thursday, May 17th. Barclays downgraded Pearson to an underweight rating and lowered their target price for the company from GBX 855 ($11.03) to GBX 815 ($10.51) in a research report on Thursday, June 14th. Finally, Kepler Capital Markets lifted their target price on Pearson from GBX 725 ($9.35) to GBX 865 ($11.16) and gave the company a hold rating in a research report on Tuesday, July 3rd. Eight equities research analysts have rated the stock with a sell rating, four have issued a hold rating and three have given a buy rating to the company. The stock currently has a consensus rating of Hold and an average target price of GBX 723.20 ($9.33).
PSON stock opened at GBX 896 ($11.56) on Monday. Pearson has a 1 year low of GBX 563 ($7.26) and a 1 year high of GBX 775.80 ($10.01).
Pearson (LON:PSON) last released its quarterly earnings results on Friday, July 27th. The company reported GBX 8.20 ($0.11) earnings per share (EPS) for the quarter, topping the Zacks' consensus estimate of GBX 5.90 ($0.08) by GBX 2.30 ($0.03). Pearson had a return on equity of 21.22% and a net margin of 17.23%.
The business also recently announced a dividend, which will be paid on Friday, September 14th. Investors of record on Thursday, August 16th will be given a dividend of GBX 5.50 ($0.07) per share. The ex-dividend date of this dividend is Thursday, August 16th. This represents a yield of 0.57%.
In related news, insider Lincoln Wallen bought 452 shares of the stock in a transaction that occurred on Friday, June 29th. The shares were bought at an average cost of GBX 884 ($11.40) per share, for a total transaction of £3,995.68 ($5,154.39).
About Pearson
Pearson plc provides educational products and services to institutions, governments, professional bodies, and individual learners worldwide. The company operates through three segments: North America, Core, and Growth. It offers courseware services, including curriculum materials provided in book form and/or via access to digital content; and assessments, such as test development, processing, and scoring services.
See Also: How do investors use RSI to grade stocks?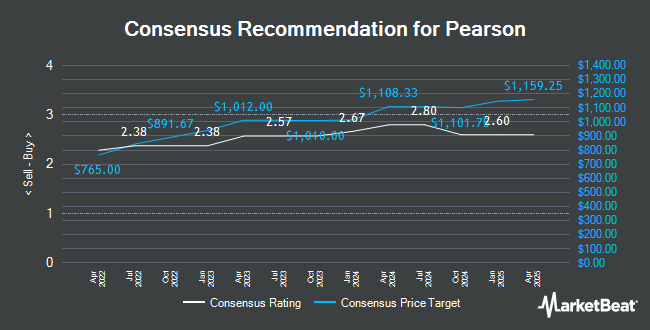 Receive News & Ratings for Pearson Daily - Enter your email address below to receive a concise daily summary of the latest news and analysts' ratings for Pearson and related companies with MarketBeat.com's FREE daily email newsletter.