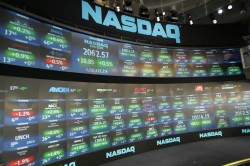 Forum Merger's (NASDAQ:FMCIU) quiet period is set to expire on Wednesday, September 12th. Forum Merger had issued 20,000,000 shares in its initial public offering on August 3rd. The total size of the offering was $200,000,000 based on an initial share price of $10.00. During the company's quiet period, insiders and any underwriters that worked on the IPO are restricted from issuing any research reports or earnings estimates for the company because of regulations issued by the Securities and Exchange Commission. Following the expiration of the company's quiet period, the brokerages that served as underwriters will likely initiate research coverage on the company.
Shares of NASDAQ:FMCIU opened at $10.00 on Friday. Forum Merger has a twelve month low of $9.95 and a twelve month high of $10.05.
In other news, CEO David Boris bought 555,000 shares of the stock in a transaction dated Tuesday, August 7th. The shares were bought at an average cost of $10.00 per share, with a total value of $5,550,000.00. The acquisition was disclosed in a filing with the Securities & Exchange Commission, which can be accessed through the SEC website.
Forum Merger Company Profile
ConvergeOne Holdings, Inc, formerly Forum Merger Corporation, is an information technology (IT) service provider of collaboration and technology solutions for large and medium enterprises. It offers collaboration, enterprise networking, data center, cloud and security solutions to its customers. It delivers these offerings across several delivery models including on-premise, and in private, hybrid, and public clouds, as well as the proprietary ConvergeOne Cloud, regardless of client's existing infrastructure.
Read More: Trading Strategy
Receive News & Ratings for Forum Merger Daily - Enter your email address below to receive a concise daily summary of the latest news and analysts' ratings for Forum Merger and related companies with MarketBeat.com's FREE daily email newsletter.