FuelCell Energy (NASDAQ:FCEL) issued its quarterly earnings results on Thursday. The energy company reported ($0.20) earnings per share for the quarter, missing the Zacks' consensus estimate of ($0.19) by ($0.01), RTT News reports. FuelCell Energy had a negative return on equity of 46.14% and a negative net margin of 37.67%. During the same period in the previous year, the business posted ($0.31) EPS.
FuelCell Energy stock opened at $1.15 on Friday. The company has a debt-to-equity ratio of 0.81, a current ratio of 2.33 and a quick ratio of 1.62. FuelCell Energy has a 52 week low of $1.00 and a 52 week high of $2.49. The stock has a market cap of $110.74 million, a P/E ratio of -1.04 and a beta of 1.71.
In other news, Chairman John A. Rolls bought 152,000 shares of the firm's stock in a transaction that occurred on Wednesday, June 27th. The stock was purchased at an average price of $1.31 per share, with a total value of $199,120.00. Following the completion of the acquisition, the chairman now directly owns 317,274 shares of the company's stock, valued at approximately $415,628.94. The purchase was disclosed in a legal filing with the SEC, which is available through this link. Insiders own 1.11% of the company's stock.
An institutional investor recently raised its position in FuelCell Energy stock. Bank of New York Mellon Corp increased its position in shares of FuelCell Energy Inc (NASDAQ:FCEL) by 244.0% in the second quarter, according to its most recent Form 13F filing with the Securities & Exchange Commission. The firm owned 259,660 shares of the energy company's stock after purchasing an additional 184,181 shares during the quarter. Bank of New York Mellon Corp owned 0.28% of FuelCell Energy worth $343,000 as of its most recent SEC filing. Institutional investors own 21.91% of the company's stock.
A number of equities research analysts have recently weighed in on the company. Zacks Investment Research lowered FuelCell Energy from a "hold" rating to a "sell" rating in a research note on Tuesday, June 12th. B. Riley set a $4.00 target price on FuelCell Energy and gave the stock a "buy" rating in a report on Friday, June 8th. Finally, ValuEngine raised FuelCell Energy from a "strong sell" rating to a "sell" rating in a report on Saturday, June 2nd. Two research analysts have rated the stock with a sell rating and five have given a buy rating to the company's stock. The company presently has a consensus rating of "Hold" and a consensus target price of $3.50.
FuelCell Energy Company Profile
FuelCell Energy, Inc, together with its subsidiaries, designs, manufactures, sells, installs, operates, and services stationary fuel cell power plants for distributed power generation. The company offers SureSource power plants, a tri-generation distributed hydrogen configuration that generates electricity, heat, and hydrogen for commercial, industrial, government, and utility customers; and fuel cell carbon capture solution for coal or gas-fired power plants.
Featured Article: What is Considered a Good Return on Equity (ROE)?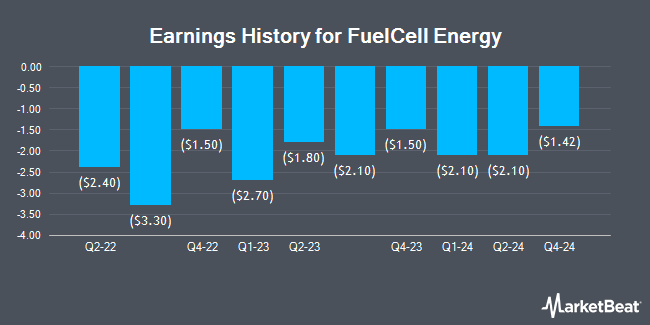 Receive News & Ratings for FuelCell Energy Daily - Enter your email address below to receive a concise daily summary of the latest news and analysts' ratings for FuelCell Energy and related companies with MarketBeat.com's FREE daily email newsletter.