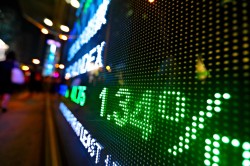 NationalResearchCorp . (NYSE:NRC) announced a quarterly dividend on Thursday, September 6th, Wall Street Journal reports. Stockholders of record on Friday, September 28th will be given a dividend of 0.17 per share on Monday, October 15th. This represents a $0.68 dividend on an annualized basis and a dividend yield of 1.75%. The ex-dividend date is Thursday, September 27th.
NationalResearchCorp . has a dividend payout ratio of 61.3% indicating that its dividend is sufficiently covered by earnings.
NationalResearchCorp . stock opened at $38.90 on Friday. NationalResearchCorp . has a 52-week low of $26.35 and a 52-week high of $42.85.
NationalResearchCorp . (NYSE:NRC) last released its earnings results on Wednesday, August 8th. The company reported $0.28 earnings per share (EPS) for the quarter, topping the Zacks' consensus estimate of $0.26 by $0.02. The business had revenue of $28.02 million for the quarter, compared to analysts' expectations of $30.70 million.
In other news, major shareholder K/I/E/Trust Under Agreement 3/ sold 14,485 shares of the company's stock in a transaction on Monday, August 27th. The shares were sold at an average price of $40.00, for a total transaction of $579,400.00. The transaction was disclosed in a document filed with the Securities & Exchange Commission, which is accessible through this hyperlink. Insiders have sold 364,807 shares of company stock valued at $13,917,876 in the last ninety days.
About NationalResearchCorp .
National Research Corporation provides analytics and insights that facilitate measurement and enhancement of the patient and employee experience in the United States and Canada. Its portfolio of subscription-based solutions provide actionable information and analysis to healthcare organizations and payers across a range of mission-critical, constituent-related elements, including patient experience, satisfaction, community population health risks, workforce engagement, community perceptions, and physician engagement.
Featured Story: Growth Stocks, What They Are, What They Are Not
Receive News & Ratings for NationalResearchCorp . Daily - Enter your email address below to receive a concise daily summary of the latest news and analysts' ratings for NationalResearchCorp . and related companies with MarketBeat.com's FREE daily email newsletter.