Berenberg Bank cut shares of Shire (LON:SHP) to a hold rating in a report released on Thursday. Berenberg Bank currently has GBX 5,000 ($64.50) price objective on the biopharmaceutical company's stock, up from their prior price objective of GBX 4,500 ($58.05).
A number of other brokerages have also commented on SHP. Deutsche Bank restated a hold rating on shares of Shire in a report on Tuesday, July 3rd. Shore Capital lowered shares of Shire to a hold rating in a research note on Thursday, June 21st. Kepler Capital Markets lowered shares of Shire to an under review rating in a research note on Thursday, May 10th. UBS Group reiterated a neutral rating and issued a GBX 4,500 ($58.05) price target on shares of Shire in a research note on Wednesday, August 1st. Finally, Barclays lifted their price target on shares of Shire from GBX 3,650 ($47.08) to GBX 3,900 ($50.31) and gave the company an equal weight rating in a research note on Tuesday, July 10th. Eight analysts have rated the stock with a hold rating, thirteen have issued a buy rating and one has assigned a strong buy rating to the company's stock. The company has an average rating of Buy and an average target price of GBX 4,693.14 ($60.54).
Shares of LON:SHP traded down GBX 50 ($0.64) during midday trading on Thursday, reaching GBX 4,281.50 ($55.23). 967,911 shares of the company were exchanged, compared to its average volume of 3,140,000. Shire has a fifty-two week low of GBX 2,940.50 ($37.93) and a fifty-two week high of GBX 5,021 ($64.77).
The company also recently disclosed a dividend, which will be paid on Friday, October 19th. Stockholders of record on Thursday, September 6th will be given a GBX 4.26 ($0.05) dividend. This represents a dividend yield of 0.1%. The ex-dividend date is Thursday, September 6th.
In other news, insider Olivier Bohuon acquired 171 shares of the firm's stock in a transaction dated Friday, June 29th. The stock was bought at an average price of GBX 4,299 ($55.46) per share, with a total value of £7,351.29 ($9,483.09).
About Shire
Shire plc, a biotechnology company, researches, develops, licenses, manufactures, markets, distributes, and sells medicines for rare diseases and other specialized conditions worldwide. The company offers products in therapeutic areas, including hematology, genetic diseases, neuroscience, immunology, internal medicine, ophthalmology, and oncology.
Featured Article: What does earnings per share mean?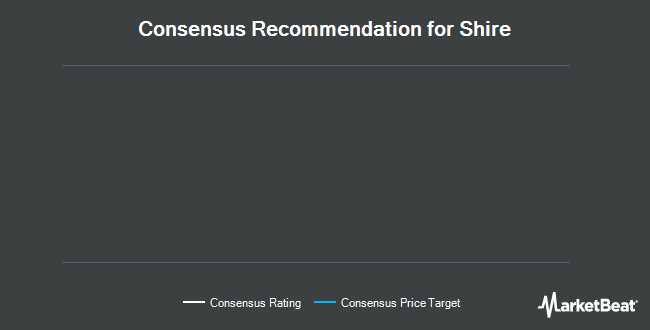 Receive News & Ratings for Shire Daily - Enter your email address below to receive a concise daily summary of the latest news and analysts' ratings for Shire and related companies with MarketBeat.com's FREE daily email newsletter.