Monroe Capital Corp (NASDAQ:MRCC) announced a quarterly dividend on Monday, September 3rd, Wall Street Journal reports. Investors of record on Friday, September 14th will be paid a dividend of 0.35 per share by the financial services provider on Friday, September 28th. This represents a $1.40 annualized dividend and a yield of 10.20%. The ex-dividend date is Thursday, September 13th.
Monroe Capital has increased its dividend payment by an average of 1.0% annually over the last three years. Monroe Capital has a dividend payout ratio of 90.9% indicating that its dividend is currently covered by earnings, but may not be in the future if the company's earnings decline. Research analysts expect Monroe Capital to earn $1.55 per share next year, which means the company should continue to be able to cover its $1.40 annual dividend with an expected future payout ratio of 90.3%.
MRCC traded up $0.02 during trading hours on Friday, hitting $13.72. 53,518 shares of the company's stock were exchanged, compared to its average volume of 61,316. Monroe Capital has a 12-month low of $12.18 and a 12-month high of $14.80. The company has a market cap of $280.09 million, a P/E ratio of 9.80 and a beta of 0.69. The company has a quick ratio of 2.08, a current ratio of 2.08 and a debt-to-equity ratio of 0.87.
Monroe Capital (NASDAQ:MRCC) last announced its earnings results on Tuesday, August 7th. The financial services provider reported $0.39 earnings per share for the quarter, topping the consensus estimate of $0.37 by $0.02. Monroe Capital had a net margin of 25.14% and a return on equity of 10.95%. The firm had revenue of $14.82 million for the quarter, compared to the consensus estimate of $15.31 million. research analysts forecast that Monroe Capital will post 1.54 earnings per share for the current year.
MRCC has been the topic of several recent research reports. National Securities reaffirmed a "buy" rating and set a $17.00 target price on shares of Monroe Capital in a research note on Monday, May 14th. Zacks Investment Research raised shares of Monroe Capital from a "sell" rating to a "hold" rating in a research report on Tuesday, May 15th. BidaskClub raised shares of Monroe Capital from a "hold" rating to a "buy" rating in a research report on Saturday, May 19th. Finally, ValuEngine raised shares of Monroe Capital from a "sell" rating to a "hold" rating in a research report on Wednesday, May 23rd. One research analyst has rated the stock with a sell rating, three have given a hold rating and one has issued a buy rating to the company. The stock presently has an average rating of "Hold" and a consensus price target of $15.00.
In other news, Director Jeffrey A. Golman acquired 8,000 shares of the company's stock in a transaction on Wednesday, June 20th. The shares were bought at an average cost of $13.62 per share, with a total value of $108,960.00. Following the transaction, the director now owns 10,000 shares in the company, valued at approximately $136,200. The purchase was disclosed in a filing with the SEC, which can be accessed through the SEC website. Corporate insiders own 1.90% of the company's stock.
About Monroe Capital
Monroe Capital Corporation is a business development company specializing in senior, unitranche and junior secured debt and to a lesser extent, unsecured debt and equity investments, and buyouts in middle-market companies. The fund prefers to invest in casinos and gaming, broadcasting, publishing, alcoholic beverage and tobacco distribution, oil and gas, insurance, pharmaceuticals and bio sciences, aerospace and defense, commercial printing, natural rubber, glass, container and packaging, metals and mining, and real estate.
Featured Article: Hedge Funds – How They Work For Investors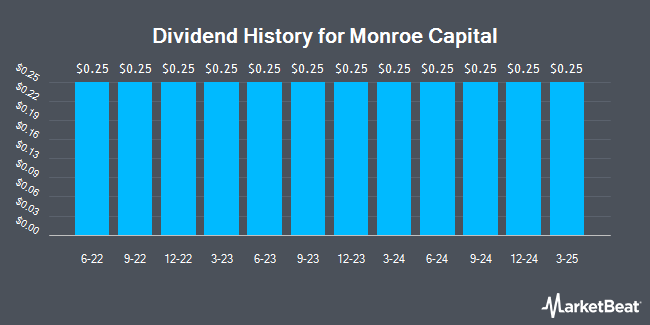 Receive News & Ratings for Monroe Capital Daily - Enter your email address below to receive a concise daily summary of the latest news and analysts' ratings for Monroe Capital and related companies with MarketBeat.com's FREE daily email newsletter.