Spectris (LON:SXS) was upgraded by investment analysts at BNP Paribas to an "outperform" rating in a research report issued to clients and investors on Tuesday. The brokerage currently has a GBX 2,700 ($35.17) target price on the stock, up from their prior target price of GBX 2,550 ($33.22). BNP Paribas' price target suggests a potential upside of 12.13% from the stock's previous close.
Several other equities analysts have also issued reports on the company. Jefferies Financial Group restated a "buy" rating on shares of Spectris in a research report on Wednesday, September 5th. JPMorgan Chase & Co. restated a "neutral" rating on shares of Spectris in a research report on Thursday, August 23rd. Shore Capital lowered Spectris to a "hold" rating in a research report on Wednesday, August 15th. Peel Hunt upgraded Spectris to an "add" rating and reduced their price target for the stock from GBX 3,000 ($39.08) to GBX 2,825 ($36.80) in a research report on Tuesday, August 14th. Finally, UBS Group restated a "sell" rating and set a GBX 2,150 ($28.01) price target (down from GBX 2,250 ($29.31)) on shares of Spectris in a research report on Thursday, July 26th. One investment analyst has rated the stock with a sell rating, eight have issued a hold rating and six have assigned a buy rating to the stock. The stock presently has an average rating of "Hold" and a consensus price target of GBX 2,781.43 ($36.23).
SXS opened at GBX 2,408 ($31.37) on Tuesday. Spectris has a 1 year low of GBX 2,225 ($28.98) and a 1 year high of GBX 2,869 ($37.37).
Spectris (LON:SXS) last posted its quarterly earnings results on Tuesday, July 24th. The company reported GBX 46.10 ($0.60) earnings per share (EPS) for the quarter, missing the consensus estimate of GBX 51.80 ($0.67) by GBX (5.70) (($0.07)). Spectris had a return on equity of 37.36% and a net margin of 25.86%.
In other Spectris news, insider Karim Bitar acquired 650 shares of the company's stock in a transaction on Friday, August 17th. The stock was acquired at an average price of GBX 2,306 ($30.04) per share, for a total transaction of £14,989 ($19,524.55). Also, insider Clive Watson sold 1,859 shares of the stock in a transaction that occurred on Friday, August 10th. The stock was sold at an average price of GBX 2,197 ($28.62), for a total value of £40,842.23 ($53,200.77). In the last quarter, insiders acquired 1,044 shares of company stock valued at $2,453,118.
About Spectris
Spectris plc manufactures and sells measuring instruments and controls worldwide. It operates through four segments: Materials Analysis, Test and Measurement, In-line Instrumentation, and Industrial Controls. The Materials Analysis segment provides products and services, which enable customers to determine structure, composition, quantity, and quality of particles and materials during their research and development processes, when assessing materials before production, or during the manufacturing process.
Featured Article: How Do I Invest in Dividend Stocks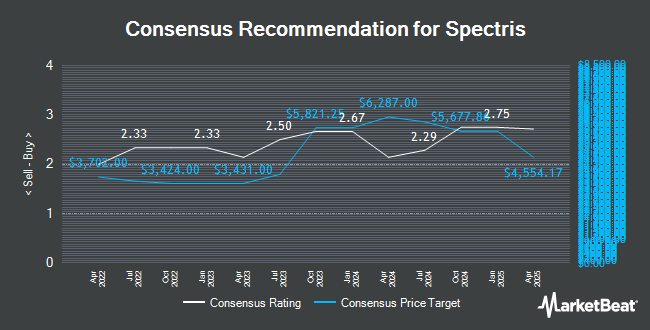 Receive News & Ratings for Spectris Daily - Enter your email address below to receive a concise daily summary of the latest news and analysts' ratings for Spectris and related companies with MarketBeat.com's FREE daily email newsletter.