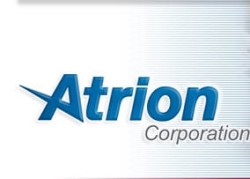 Shares of Atrion Co. (NASDAQ:ATRI) have received a consensus broker rating score of 5.00 (Strong Sell) from the one analysts that provide coverage for the company, Zacks Investment Research reports. One research analyst has rated the stock with a strong sell rating.
Brokerages have set a one year consensus target price of $300.00 for the company, according to Zacks. Zacks has also assigned Atrion an industry rank of 184 out of 255 based on the ratings given to its competitors.
Separately, BidaskClub downgraded shares of Atrion from a "buy" rating to a "hold" rating in a research report on Tuesday, August 28th.
Shares of Atrion stock traded up $5.90 during trading hours on Thursday, reaching $641.90. The stock had a trading volume of 8,500 shares, compared to its average volume of 7,730. The company has a market cap of $1.19 billion, a P/E ratio of 35.25 and a beta of 0.59. Atrion has a twelve month low of $516.85 and a twelve month high of $694.25.
Atrion (NASDAQ:ATRI) last issued its quarterly earnings data on Tuesday, August 7th. The medical instruments supplier reported $4.70 earnings per share for the quarter. The business had revenue of $38.85 million during the quarter. Atrion had a net margin of 22.57% and a return on equity of 17.99%.
The business also recently declared a quarterly dividend, which will be paid on Friday, September 28th. Investors of record on Friday, September 14th will be given a dividend of $1.35 per share. This represents a $5.40 annualized dividend and a dividend yield of 0.84%. The ex-dividend date is Thursday, September 13th. This is an increase from Atrion's previous quarterly dividend of $1.20.
Several institutional investors and hedge funds have recently added to or reduced their stakes in ATRI. Her Majesty the Queen in Right of the Province of Alberta as represented by Alberta Investment Management Corp acquired a new position in shares of Atrion during the 2nd quarter worth about $240,000. Xact Kapitalforvaltning AB acquired a new position in shares of Atrion during the 1st quarter worth about $248,000. Principal Financial Group Inc. acquired a new position in shares of Atrion during the 1st quarter worth about $249,000. Victory Capital Management Inc. raised its position in shares of Atrion by 28.4% during the 1st quarter. Victory Capital Management Inc. now owns 438 shares of the medical instruments supplier's stock worth $277,000 after purchasing an additional 97 shares during the last quarter. Finally, Chevy Chase Trust Holdings Inc. acquired a new position in shares of Atrion during the 2nd quarter worth about $300,000. Hedge funds and other institutional investors own 61.11% of the company's stock.
About Atrion
Atrion Corporation develops, manufactures, and sells products for fluid delivery, cardiovascular, and ophthalmology applications worldwide. Its fluid delivery products include valves that fill, hold, and release controlled amounts of fluids or gasses for use in various intubation, intravenous, catheter, and other applications in the anesthesia and oncology fields, as well as promote infection control in hospital and home healthcare environments.
See Also: Understanding Price to Earnings Ratio (PE)
Get a free copy of the Zacks research report on Atrion (ATRI)
For more information about research offerings from Zacks Investment Research, visit Zacks.com
Receive News & Ratings for Atrion Daily - Enter your email address below to receive a concise daily summary of the latest news and analysts' ratings for Atrion and related companies with MarketBeat.com's FREE daily email newsletter.