Metro, Inc. (TSE:MRU) has earned a consensus rating of "Hold" from the nine analysts that are covering the company, MarketBeat Ratings reports. Four investment analysts have rated the stock with a hold rating and three have assigned a buy rating to the company. The average 1 year target price among brokers that have issued a report on the stock in the last year is C$46.44.
MRU has been the subject of a number of research reports. BMO Capital Markets restated an "outperform" rating and set a C$48.00 target price on shares of Metro in a research note on Thursday, August 16th. Raymond James cut their target price on shares of Metro from C$47.00 to C$46.00 and set an "outperform" rating for the company in a research note on Thursday, August 16th.
TSE MRU opened at C$40.97 on Friday. Metro has a 52-week low of C$38.32 and a 52-week high of C$45.44.
Metro (TSE:MRU) last posted its earnings results on Wednesday, August 15th. The company reported C$0.75 earnings per share (EPS) for the quarter, missing analysts' consensus estimates of C$0.76 by C($0.01). The company had revenue of C$4.64 billion for the quarter. Metro had a return on equity of 158.77% and a net margin of 41.75%.
About Metro
Metro Inc operates as a retailer and distributor in the food and pharmaceutical sectors in Canada. It operates supermarkets, discount and drug stores, and food stores that provide grocery products, general merchandise, non-perishable goods, dairy products, prepared meals, fruits and vegetables, meats, and frozen foods.
See Also: How is a Moving Average Calculated?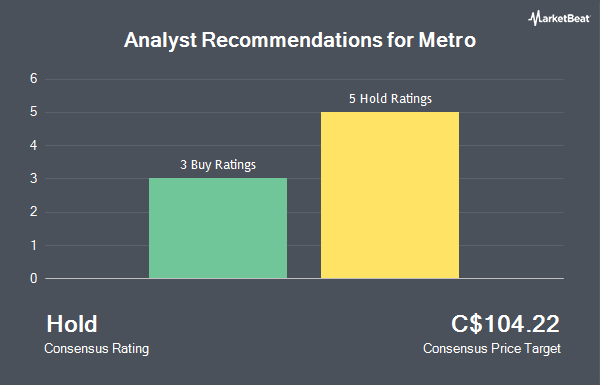 Receive News & Ratings for Metro Daily - Enter your email address below to receive a concise daily summary of the latest news and analysts' ratings for Metro and related companies with MarketBeat.com's FREE daily email newsletter.