ITT Inc (NYSE:ITT) – KeyCorp boosted their Q3 2018 earnings estimates for shares of ITT in a report issued on Wednesday, October 10th. KeyCorp analyst J. Hammond now expects that the conglomerate will post earnings per share of $0.80 for the quarter, up from their previous estimate of $0.79. KeyCorp has a "Overweight" rating and a $68.00 price objective on the stock.
ITT (NYSE:ITT) last announced its quarterly earnings results on Friday, August 3rd. The conglomerate reported $0.82 earnings per share (EPS) for the quarter, beating the Zacks' consensus estimate of $0.78 by $0.04. ITT had a return on equity of 15.40% and a net margin of 7.02%. The business had revenue of $696.80 million for the quarter, compared to the consensus estimate of $685.80 million. During the same period last year, the business posted $0.55 EPS. The business's revenue was up 10.4% compared to the same quarter last year.
A number of other research analysts also recently issued reports on ITT. Oppenheimer set a $60.00 price target on ITT and gave the company a "buy" rating in a report on Tuesday, July 10th. Stifel Nicolaus lifted their price target on ITT from $59.00 to $68.00 and gave the company a "buy" rating in a report on Monday, August 6th. Seaport Global Securities reiterated a "buy" rating and issued a $69.00 price target on shares of ITT in a report on Tuesday, August 7th. ValuEngine downgraded ITT from a "buy" rating to a "hold" rating in a report on Tuesday. Finally, Gordon Haskett assumed coverage on ITT in a report on Friday. They issued a "buy" rating on the stock. One investment analyst has rated the stock with a sell rating, two have assigned a hold rating and seven have assigned a buy rating to the stock. The stock has a consensus rating of "Buy" and a consensus price target of $66.13.
Shares of NYSE:ITT opened at $52.44 on Monday. ITT has a 12-month low of $46.05 and a 12-month high of $63.04. The firm has a market capitalization of $5.36 billion, a PE ratio of 20.25, a P/E/G ratio of 1.58 and a beta of 1.64.
A number of hedge funds have recently made changes to their positions in ITT. Los Angeles Capital Management & Equity Research Inc. purchased a new position in ITT during the 2nd quarter worth $211,000. Quantitative Systematic Strategies LLC purchased a new position in ITT during the 2nd quarter worth $224,000. Gifford Fong Associates purchased a new position in ITT during the 2nd quarter worth $261,000. LPL Financial LLC purchased a new position in ITT during the 1st quarter worth $262,000. Finally, Global X Management Co LLC purchased a new position in ITT during the 2nd quarter worth $293,000. Hedge funds and other institutional investors own 90.67% of the company's stock.
The firm also recently announced a quarterly dividend, which was paid on Monday, October 1st. Investors of record on Monday, September 10th were paid a dividend of $0.134 per share. The ex-dividend date was Friday, September 7th. This represents a $0.54 annualized dividend and a yield of 1.02%. ITT's dividend payout ratio (DPR) is 20.85%.
About ITT
ITT Inc manufactures and sells engineered critical components and customized technology solutions for the energy, transportation, and industrial markets worldwide. The company operates in three segments: Industrial Process, Motion Technologies, and Connect & Control Technologies. The Industrial Process segment designs and manufactures industrial pumps, valves, and plant optimization systems; and centrifugal pumps, vertical centrifugal pumps, twin screw and positive displacement pumps, and water systems, as well as aftermarket solutions, such as repairs and upgrades services.
Recommended Story: What Does Beta Mean In Stock Selection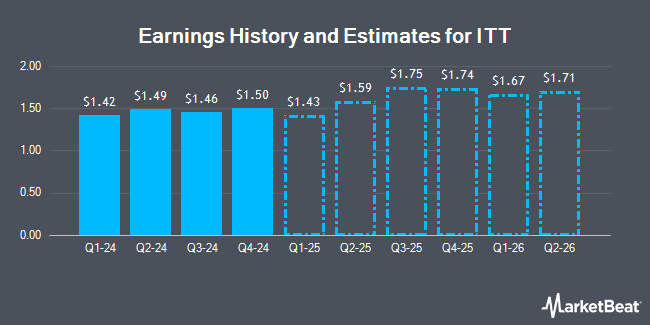 Receive News & Ratings for ITT Daily - Enter your email address below to receive a concise daily summary of the latest news and analysts' ratings for ITT and related companies with MarketBeat.com's FREE daily email newsletter.