Kinross Gold Co. (TSE:K) (NYSE:KGC) – Cormark reduced their Q3 2018 earnings estimates for Kinross Gold in a note issued to investors on Tuesday, October 16th. Cormark analyst R. Gray now anticipates that the company will post earnings of $0.00 per share for the quarter, down from their prior forecast of $0.01.
Other research analysts have also issued research reports about the stock. Canaccord Genuity cut their price objective on shares of Kinross Gold from C$9.00 to C$8.00 in a research report on Tuesday, July 24th. National Bank Financial cut their price objective on shares of Kinross Gold from C$6.50 to C$6.25 in a research report on Saturday, July 14th. Finally, Barclays reissued an "overweight" rating and issued a C$4.00 target price on shares of Kinross Gold in a research note on Wednesday, October 10th. One analyst has rated the stock with a sell rating, two have issued a hold rating and four have assigned a buy rating to the company. The stock currently has an average rating of "Hold" and an average price target of C$6.38.
Shares of K opened at C$3.72 on Wednesday. Kinross Gold has a 52 week low of C$3.42 and a 52 week high of C$5.90.
Kinross Gold (TSE:K) (NYSE:KGC) last announced its quarterly earnings data on Wednesday, August 1st. The company reported C$0.04 EPS for the quarter, meeting the Zacks' consensus estimate of C$0.04. The business had revenue of C$1 billion during the quarter, compared to analyst estimates of C$1.05 billion. Kinross Gold had a net margin of 7.26% and a return on equity of 5.54%.
In related news, insider Claude J.S. Schimper sold 14,535 shares of the company's stock in a transaction dated Wednesday, August 8th. The shares were sold at an average price of C$4.30, for a total value of C$62,500.50.
Kinross Gold Company Profile
Kinross Gold Corporation, together with its subsidiaries, engages in the acquisition, exploration, extraction, and processing of gold-containing ore. It also engages in the reclamation of gold mining properties; and production and sale of silver. The company's gold production and exploration activities are carried out principally in Canada, the United States, Russia, Brazil, Chile, Ghana, and Mauritania.
Recommended Story: How are the companies in the S&P 500 selected?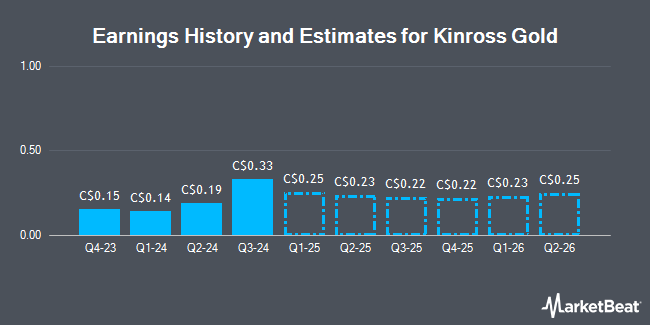 Receive News & Ratings for Kinross Gold Daily - Enter your email address below to receive a concise daily summary of the latest news and analysts' ratings for Kinross Gold and related companies with MarketBeat.com's FREE daily email newsletter.