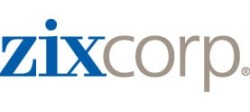 ZIX (NASDAQ:ZIXI) updated its FY 2018 earnings guidance on Tuesday. The company provided earnings per share (EPS) guidance of $0.33-0.33 for the period, compared to the Thomson Reuters consensus estimate of $0.31. The company issued revenue guidance of $70-70.2 million, compared to the consensus revenue estimate of $69.85 million.ZIX also updated its Q4 2018 guidance to $0.09-0.09 EPS.
Several analysts have commented on the company. BidaskClub raised ZIX from a hold rating to a buy rating in a report on Wednesday, September 12th. ValuEngine raised ZIX from a hold rating to a buy rating in a report on Friday, August 3rd. Three equities research analysts have rated the stock with a hold rating and two have assigned a buy rating to the company's stock. The stock has a consensus rating of Hold and an average price target of $5.17.
ZIXI traded up $0.16 during trading on Tuesday, hitting $5.06. The company's stock had a trading volume of 172,400 shares, compared to its average volume of 228,304. ZIX has a twelve month low of $3.82 and a twelve month high of $5.93. The firm has a market cap of $261.61 million, a P/E ratio of 63.25 and a beta of 0.97.
ZIX (NASDAQ:ZIXI) last issued its quarterly earnings data on Tuesday, July 31st. The software maker reported $0.07 EPS for the quarter, meeting the consensus estimate of $0.07. The company had revenue of $17.50 million for the quarter. ZIX had a positive return on equity of 10.74% and a negative net margin of 10.72%.
In other news, Director Robert C. Hausmann sold 52,927 shares of ZIX stock in a transaction that occurred on Wednesday, August 8th. The stock was sold at an average price of $5.66, for a total value of $299,566.82. Following the sale, the director now directly owns 71,285 shares of the company's stock, valued at $403,473.10. The sale was disclosed in a filing with the Securities & Exchange Commission, which is accessible through this hyperlink. Insiders own 3.70% of the company's stock.
ZIX Company Profile
Zix Corporation provides email encryption, threat protection, archiving, bring-your-own-device security, and data loss prevention solutions for the healthcare, financial services, insurance, and government sectors primarily in the United States. The company offers Zix Email Encryption that allows an enterprise to use policy-driven rules to determine email messages that should be sent securely to comply with regulations or company-defined policies.
Further Reading: Average Daily Trade Volume – ADTV
Receive News & Ratings for ZIX Daily - Enter your email address below to receive a concise daily summary of the latest news and analysts' ratings for ZIX and related companies with MarketBeat.com's FREE daily email newsletter.