Credit Suisse Group restated their neutral rating on shares of Persimmon (LON:PSN) in a report issued on Friday. They currently have a GBX 2,840 ($37.11) target price on the stock.
Several other brokerages have also weighed in on PSN. Peel Hunt upped their price objective on Persimmon from GBX 2,775 ($36.26) to GBX 2,790 ($36.46) and gave the company a hold rating in a report on Wednesday, August 29th. Berenberg Bank began coverage on Persimmon in a report on Wednesday, July 25th. They issued a hold rating and a GBX 2,760 ($36.06) price objective for the company. Liberum Capital restated a buy rating on shares of Persimmon in a report on Thursday, July 5th. Citigroup cut their price objective on Persimmon from GBX 2,860 ($37.37) to GBX 2,575 ($33.65) and set a neutral rating for the company in a report on Monday, August 13th. Finally, Canaccord Genuity cut their target price on Persimmon from GBX 2,950 ($38.55) to GBX 2,870 ($37.50) and set a buy rating on the stock in a research report on Wednesday, August 22nd. Two analysts have rated the stock with a sell rating, eight have assigned a hold rating and three have given a buy rating to the company's stock. The company currently has a consensus rating of Hold and an average target price of GBX 2,766.46 ($36.15).
Shares of Persimmon stock traded down GBX 14 ($0.18) during trading on Friday, hitting GBX 2,373 ($31.01). The stock had a trading volume of 879,194 shares, compared to its average volume of 1,520,000. Persimmon has a fifty-two week low of GBX 2,046 ($26.73) and a fifty-two week high of GBX 2,901 ($37.91).
In related news, insider Roger Devlin bought 12,575 shares of the business's stock in a transaction dated Thursday, October 18th. The shares were bought at an average cost of GBX 2,217 ($28.97) per share, with a total value of £278,787.75 ($364,285.57).
About Persimmon
Persimmon Plc, together with its subsidiaries, operates as a house builder in the United Kingdom. The company offers apartments and family homes under the Persimmon Homes brand name; builds executive housing under the Charles Church brand; and operates off-site manufacturing plant. It also provides homes to housing associations under the Westbury Partnerships brand.
Recommended Story: Find a Trading Strategy That Works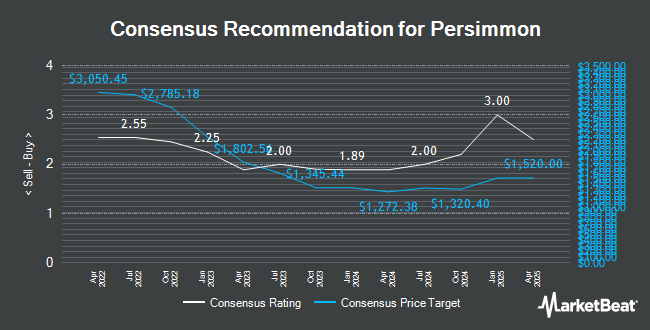 Receive News & Ratings for Persimmon Daily - Enter your email address below to receive a concise daily summary of the latest news and analysts' ratings for Persimmon and related companies with MarketBeat.com's FREE daily email newsletter.