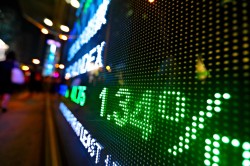 Ten Peaks Coffee Co Inc (TSE:TPK)'s share price hit a new 52-week low during trading on Monday . The company traded as low as C$4.51 and last traded at C$5.50, with a volume of 5100 shares traded. The stock had previously closed at C$5.28.
Ten Peaks Coffee (TSE:TPK) last posted its quarterly earnings data on Wednesday, August 8th. The company reported C$0.10 EPS for the quarter. The business had revenue of C$22.66 million during the quarter.
The firm also recently disclosed a quarterly dividend, which was paid on Monday, October 15th. Shareholders of record on Friday, September 28th were paid a $0.063 dividend. This represents a $0.25 dividend on an annualized basis and a yield of 4.58%. The ex-dividend date was Thursday, September 27th.
ILLEGAL ACTIVITY NOTICE: This piece was reported by Macon Daily and is the sole property of of Macon Daily. If you are accessing this piece on another publication, it was copied illegally and republished in violation of U.S. and international copyright & trademark law. The legal version of this piece can be viewed at https://macondaily.com/2018/11/05/ten-peaks-coffee-tpk-hits-new-52-week-low-at-4-51.html.
About Ten Peaks Coffee (TSE:TPK)
Ten Peaks Coffee Company Inc, together with its subsidiaries, operates as a specialty coffee company in Canada, the United States, and internationally. It decaffeinates and sells green coffee to specialty roaster retailers, specialty coffee importers, and commercial coffee roasters. The company uses the SWISS WATER process to decaffeinate green coffee without the use of chemicals.
See Also: Inflation
Receive News & Ratings for Ten Peaks Coffee Daily - Enter your email address below to receive a concise daily summary of the latest news and analysts' ratings for Ten Peaks Coffee and related companies with MarketBeat.com's FREE daily email newsletter.