Tivity Health (NASDAQ:TVTY) updated its FY 2018 earnings guidance on Monday. The company provided EPS guidance of $2.15-2.20 for the period, compared to the Thomson Reuters consensus EPS estimate of $2.15. The company issued revenue guidance of $607-610 million, compared to the consensus revenue estimate of $611.7 million.
Several brokerages recently weighed in on TVTY. BidaskClub upgraded Tivity Health from a buy rating to a strong-buy rating in a report on Wednesday, October 31st. Zacks Investment Research cut Tivity Health from a hold rating to a sell rating in a report on Thursday, October 18th. Finally, SunTrust Banks restated a buy rating and set a $46.00 target price on shares of Tivity Health in a report on Friday, August 3rd. Two research analysts have rated the stock with a sell rating, five have given a buy rating and one has assigned a strong buy rating to the company's stock. Tivity Health currently has an average rating of Buy and a consensus target price of $47.00.
TVTY stock traded up $0.34 during trading on Monday, hitting $35.12. 616,100 shares of the company traded hands, compared to its average volume of 527,514. The stock has a market capitalization of $1.39 billion, a PE ratio of 20.90, a P/E/G ratio of 1.47 and a beta of 0.82. Tivity Health has a 1 year low of $29.95 and a 1 year high of $48.50.
Tivity Health (NASDAQ:TVTY) last issued its earnings results on Thursday, August 2nd. The company reported $0.53 earnings per share for the quarter, meeting the consensus estimate of $0.53. The company had revenue of $151.90 million during the quarter, compared to analysts' expectations of $152.98 million. Tivity Health had a return on equity of 28.38% and a net margin of 13.79%. Tivity Health's quarterly revenue was up 9.4% compared to the same quarter last year. During the same period in the prior year, the business posted $0.41 EPS. Research analysts anticipate that Tivity Health will post 2.15 EPS for the current fiscal year.
WARNING: This report was first published by Macon Daily and is the sole property of of Macon Daily. If you are viewing this report on another domain, it was stolen and reposted in violation of US & international trademark and copyright law. The original version of this report can be accessed at https://macondaily.com/2018/11/05/tivity-health-tvty-issues-fy-2018-earnings-guidance.html.
Tivity Health Company Profile
Tivity Health, Inc provides fitness and health improvement programs in the United States. The company offers SilverSneakers senior fitness program to the members of Medicare advantage, Medicare supplement, and group retiree plans; and Prime fitness, a fitness facility access program through commercial health plans and employers.
Recommended Story: How dollar cost averaging works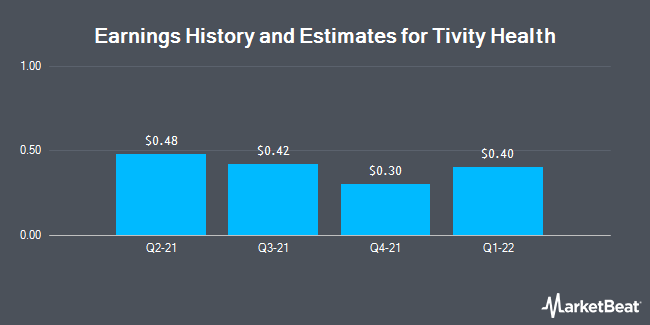 Receive News & Ratings for Tivity Health Daily - Enter your email address below to receive a concise daily summary of the latest news and analysts' ratings for Tivity Health and related companies with MarketBeat.com's FREE daily email newsletter.