Renaissance Technologies LLC reduced its stake in Advaxis, Inc. (NASDAQ:ADXS) by 56.0% in the second quarter, according to the company in its most recent 13F filing with the Securities and Exchange Commission. The firm owned 436,494 shares of the biotechnology company's stock after selling 555,900 shares during the period. Renaissance Technologies LLC owned 0.83% of Advaxis worth $633,000 as of its most recent filing with the Securities and Exchange Commission.
Other large investors also recently modified their holdings of the company. LMR Partners LLP acquired a new stake in shares of Advaxis in the 2nd quarter worth approximately $171,000. Franklin Street Advisors Inc. NC acquired a new stake in Advaxis during the second quarter valued at approximately $190,000. Finally, BlackRock Inc. lifted its stake in Advaxis by 28.2% during the first quarter. BlackRock Inc. now owns 2,925,417 shares of the biotechnology company's stock valued at $4,943,000 after purchasing an additional 644,201 shares during the last quarter. 21.32% of the stock is owned by institutional investors.
In other Advaxis news, Director Roni Appel bought 33,333 shares of the business's stock in a transaction that occurred on Tuesday, September 11th. The stock was acquired at an average cost of $1.20 per share, with a total value of $39,999.60. The purchase was disclosed in a filing with the Securities & Exchange Commission, which is available through this hyperlink. 4.72% of the stock is owned by corporate insiders.
Several analysts recently commented on ADXS shares. HC Wainwright reissued a "buy" rating on shares of Advaxis in a research note on Wednesday, September 12th. ValuEngine raised shares of Advaxis from a "hold" rating to a "buy" rating in a research note on Thursday, November 1st.
ADXS stock opened at $0.54 on Tuesday. Advaxis, Inc. has a 12 month low of $0.47 and a 12 month high of $3.58.
Advaxis (NASDAQ:ADXS) last released its earnings results on Monday, September 10th. The biotechnology company reported ($0.27) EPS for the quarter, missing the consensus estimate of ($0.25) by ($0.02). Advaxis had a negative net margin of 1,062.68% and a negative return on equity of 165.23%. The business had revenue of $1.13 million for the quarter, compared to analyst estimates of $1.85 million. On average, equities research analysts forecast that Advaxis, Inc. will post -1.09 earnings per share for the current fiscal year.
ILLEGAL ACTIVITY WARNING: This article was first reported by Macon Daily and is owned by of Macon Daily. If you are accessing this article on another publication, it was illegally copied and republished in violation of international copyright and trademark law. The original version of this article can be accessed at https://macondaily.com/2018/11/06/advaxis-inc-adxs-shares-sold-by-renaissance-technologies-llc.html.
Advaxis Profile
Advaxis, Inc, a clinical stage biotechnology company, focuses on the discovery, development, and commercialization of Listeria monocytogenes (Lm) technology based immunotherapies in the United States. It is developing Axalimogene filolisbac and ADXS-Dual that are Lm-LLO immunotherapy product candidates for the treatment of human papilloma virus associated cancers, including cervical, and head and neck cancers.
See Also: How Buying a Call Option Works
Want to see what other hedge funds are holding ADXS? Visit HoldingsChannel.com to get the latest 13F filings and insider trades for Advaxis, Inc. (NASDAQ:ADXS).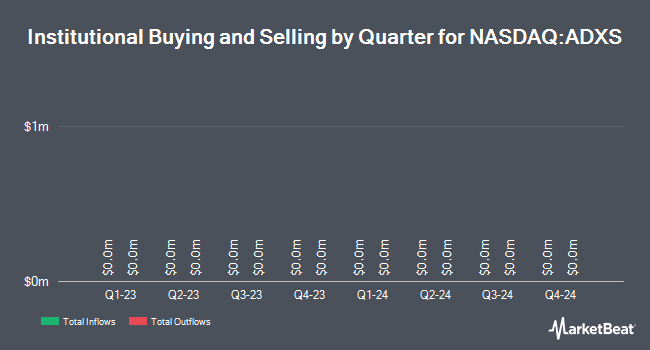 Receive News & Ratings for Advaxis Daily - Enter your email address below to receive a concise daily summary of the latest news and analysts' ratings for Advaxis and related companies with MarketBeat.com's FREE daily email newsletter.