Essential Energy Services (TSE:ESN) is set to announce its earnings results after the market closes on Wednesday, November 7th. Analysts expect the company to announce earnings of C$0.01 per share for the quarter.
Essential Energy Services (TSE:ESN) last released its quarterly earnings results on Wednesday, August 8th. The company reported C($0.02) earnings per share for the quarter, topping the consensus estimate of C($0.03) by C$0.01. The company had revenue of C$37.94 million for the quarter, compared to analyst estimates of C$28.30 million.
ESN opened at C$0.42 on Tuesday. Essential Energy Services has a twelve month low of C$0.39 and a twelve month high of C$0.82.
Several research analysts recently weighed in on ESN shares. Raymond James reduced their price target on shares of Essential Energy Services from C$1.30 to C$1.05 and set an "outperform" rating for the company in a research report on Thursday, August 9th. Canaccord Genuity reduced their price target on shares of Essential Energy Services from C$0.65 to C$0.60 in a research report on Tuesday, October 16th.
ILLEGAL ACTIVITY NOTICE: This report was first published by Macon Daily and is the property of of Macon Daily. If you are accessing this report on another domain, it was illegally copied and republished in violation of US and international trademark & copyright legislation. The correct version of this report can be viewed at https://macondaily.com/2018/11/06/essential-energy-services-esn-to-release-quarterly-earnings-on-wednesday.html.
About Essential Energy Services
Essential Energy Services Ltd., together with its subsidiaries, provides oilfield services to oil and gas exploration and production companies primarily in western Canada. The company operates through two segments, Essential Coil Well Service (ECWS) and Tryton Tool Services (Tryton). The ECWS segment offers well completion, and production and workover services through its fleet of coil tubing rigs, fluid and nitrogen pumpers, and ancillary equipment.
Featured Story: Short Selling – Explanation For Shorting Stocks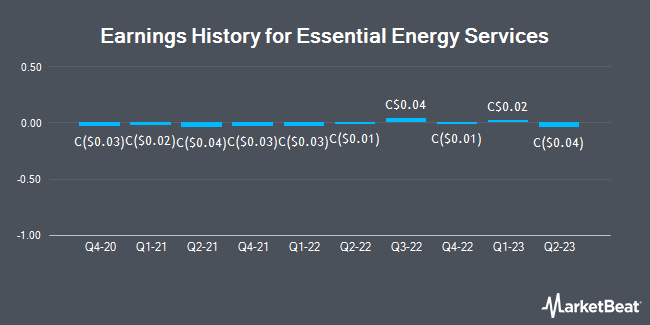 Receive News & Ratings for Essential Energy Services Daily - Enter your email address below to receive a concise daily summary of the latest news and analysts' ratings for Essential Energy Services and related companies with MarketBeat.com's FREE daily email newsletter.