Novavax (NASDAQ:NVAX) will be issuing its quarterly earnings data after the market closes on Wednesday, November 7th. Analysts expect the company to announce earnings of ($0.12) per share for the quarter. Parties that are interested in registering for the company's conference call can do so using this link.
Novavax (NASDAQ:NVAX) last announced its quarterly earnings results on Wednesday, August 8th. The biopharmaceutical company reported ($0.12) earnings per share for the quarter, hitting analysts' consensus estimates of ($0.12). The company had revenue of $10.80 million during the quarter, compared to analyst estimates of $10.02 million. During the same period in the prior year, the firm earned ($0.16) EPS. Novavax's quarterly revenue was up 61.2% on a year-over-year basis. On average, analysts expect Novavax to post $-1 EPS for the current fiscal year and $0 EPS for the next fiscal year.
Shares of NASDAQ NVAX traded down $0.01 during trading hours on Tuesday, hitting $1.93. 41,365 shares of the company's stock were exchanged, compared to its average volume of 5,764,370. Novavax has a 1-year low of $1.05 and a 1-year high of $2.75. The stock has a market capitalization of $734.58 million, a PE ratio of -3.02 and a beta of 2.51.
An institutional investor recently raised its position in Novavax stock. Bank of New York Mellon Corp boosted its position in shares of Novavax, Inc. (NASDAQ:NVAX) by 13.2% during the 2nd quarter, according to its most recent Form 13F filing with the Securities & Exchange Commission. The firm owned 1,720,847 shares of the biopharmaceutical company's stock after acquiring an additional 201,244 shares during the period. Bank of New York Mellon Corp owned approximately 0.45% of Novavax worth $2,306,000 at the end of the most recent quarter. 42.32% of the stock is currently owned by hedge funds and other institutional investors.
NVAX has been the subject of several research analyst reports. Zacks Investment Research raised Novavax from a "hold" rating to a "buy" rating and set a $1.50 price objective for the company in a research report on Tuesday, August 14th. B. Riley set a $10.00 price objective on Novavax and gave the stock a "buy" rating in a research report on Monday, October 8th. BidaskClub raised Novavax from a "sell" rating to a "hold" rating in a research report on Saturday. Cantor Fitzgerald set a $2.00 price objective on Novavax and gave the stock a "hold" rating in a research report on Wednesday, September 26th. Finally, JPMorgan Chase & Co. raised Novavax from an "underweight" rating to an "overweight" rating and boosted their price objective for the stock from $2.00 to $2.25 in a research report on Friday, September 21st. Six investment analysts have rated the stock with a hold rating and five have issued a buy rating to the stock. The company currently has a consensus rating of "Hold" and a consensus target price of $3.37.
ILLEGAL ACTIVITY NOTICE: This report was first posted by Macon Daily and is the property of of Macon Daily. If you are reading this report on another domain, it was stolen and republished in violation of international copyright law. The original version of this report can be read at https://macondaily.com/2018/11/06/novavax-nvax-to-release-quarterly-earnings-on-wednesday.html.
Novavax Company Profile
Novavax, Inc, together with its subsidiary, Novavax AB, a clinical-stage biotechnology company, focuses on the discovery, development, and commercialization of recombinant nanoparticle vaccines and adjuvants. Its lead adjuvant is Matrix-M that is used to enable a vaccine to enhance the amplitude of the immune response and qualitatively change it, enhance its specificity to provide protection against related microorganisms, as well as allows immunization with much lower doses of antigen.
Read More: What are the benefits of a balanced fund?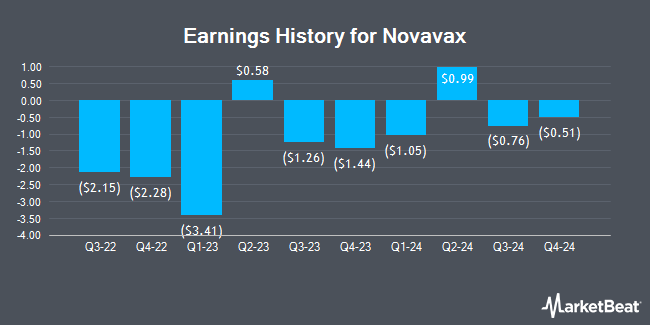 Receive News & Ratings for Novavax Daily - Enter your email address below to receive a concise daily summary of the latest news and analysts' ratings for Novavax and related companies with MarketBeat.com's FREE daily email newsletter.