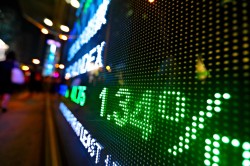 Senseonics (NASDAQ:SENS) is set to issue its quarterly earnings data after the market closes on Thursday, November 8th. Analysts expect the company to announce earnings of ($0.15) per share for the quarter.
Senseonics (NASDAQ:SENS) last posted its quarterly earnings data on Wednesday, August 8th. The company reported ($0.16) EPS for the quarter, missing the Zacks' consensus estimate of ($0.13) by ($0.03). The business had revenue of $3.62 million during the quarter, compared to analysts' expectations of $3.94 million.
Senseonics stock opened at $3.63 on Tuesday. Senseonics has a one year low of $2.41 and a one year high of $5.29.
Separately, Dougherty & Co restated a "buy" rating and set a $6.00 price objective on shares of Senseonics in a research note on Monday, August 27th.
TRADEMARK VIOLATION NOTICE: "Senseonics (SENS) to Release Quarterly Earnings on Thursday" was published by Macon Daily and is the property of of Macon Daily. If you are reading this piece on another domain, it was copied illegally and republished in violation of US and international trademark and copyright legislation. The legal version of this piece can be read at https://macondaily.com/2018/11/06/senseonics-sens-to-release-quarterly-earnings-on-thursday.html.
Senseonics Company Profile
Senseonics Holdings, Inc, a medical technology company, designs, develops, and commercializes continuous glucose monitoring (CGM) systems for people with diabetes primarily in Europe. Its products include Eversense and Eversense XL, which are implantable CGM systems that is designed to continually and accurately measure glucose levels in people with diabetes for a period of up to 90 and 180 days.
See Also: Inflation
Receive News & Ratings for Senseonics Daily - Enter your email address below to receive a concise daily summary of the latest news and analysts' ratings for Senseonics and related companies with MarketBeat.com's FREE daily email newsletter.