Sykes Enterprises (NASDAQ:SYKE) updated its fourth quarter earnings guidance on Monday. The company provided earnings per share (EPS) guidance of $0.65-0.69 for the period, compared to the Thomson Reuters consensus estimate of $0.65. The company issued revenue guidance of $415-420 million, compared to the consensus revenue estimate of $419.77 million.Sykes Enterprises also updated its FY 2018 guidance to $2.09-2.13 EPS.
Several brokerages recently weighed in on SYKE. Barrington Research reaffirmed a hold rating on shares of Sykes Enterprises in a report on Tuesday, October 23rd. BidaskClub raised Sykes Enterprises from a hold rating to a buy rating in a report on Tuesday, September 18th. TheStreet downgraded Sykes Enterprises from a b- rating to a c+ rating in a report on Tuesday, August 21st. SunTrust Banks reaffirmed a buy rating and set a $36.00 price target on shares of Sykes Enterprises in a report on Friday, July 27th. Finally, ValuEngine raised Sykes Enterprises from a sell rating to a hold rating in a report on Wednesday, August 8th. Two research analysts have rated the stock with a hold rating and three have given a buy rating to the company's stock. The company currently has an average rating of Buy and a consensus price target of $33.00.
NASDAQ:SYKE traded down $3.37 during trading hours on Tuesday, hitting $27.55. The company's stock had a trading volume of 112,742 shares, compared to its average volume of 130,380. The stock has a market capitalization of $1.31 billion, a price-to-earnings ratio of 13.78, a PEG ratio of 1.48 and a beta of 0.65. The company has a debt-to-equity ratio of 0.11, a quick ratio of 2.90 and a current ratio of 2.90. Sykes Enterprises has a 52-week low of $25.90 and a 52-week high of $32.15.
Sykes Enterprises (NASDAQ:SYKE) last released its quarterly earnings data on Monday, November 5th. The information technology services provider reported $0.59 earnings per share (EPS) for the quarter, topping the Thomson Reuters' consensus estimate of $0.56 by $0.03. The firm had revenue of $399.30 million during the quarter, compared to analysts' expectations of $404.79 million. Sykes Enterprises had a return on equity of 10.28% and a net margin of 1.39%. Sykes Enterprises's revenue was down 2.0% compared to the same quarter last year. During the same quarter in the prior year, the business posted $0.62 earnings per share. On average, analysts predict that Sykes Enterprises will post 2.07 EPS for the current year.
In other Sykes Enterprises news, VP James T. Holder sold 8,300 shares of the stock in a transaction on Tuesday, August 28th. The stock was sold at an average price of $30.05, for a total value of $249,415.00. Following the completion of the transaction, the vice president now owns 19,706 shares in the company, valued at $592,165.30. The transaction was disclosed in a document filed with the Securities & Exchange Commission, which is available at this hyperlink. Corporate insiders own 2.90% of the company's stock.
TRADEMARK VIOLATION WARNING: This piece was originally posted by Macon Daily and is owned by of Macon Daily. If you are viewing this piece on another domain, it was stolen and republished in violation of United States & international trademark & copyright law. The correct version of this piece can be accessed at https://macondaily.com/2018/11/06/sykes-enterprises-syke-releases-q4-earnings-guidance.html.
About Sykes Enterprises
Sykes Enterprises, Incorporated, together with its subsidiaries, provides multichannel demand generation and global customer engagement services. Its customer care services include handling billing inquiries and claims, activating customer accounts, resolving complaints, cross-selling/up-selling, and prequalifying and warranty management, as well as providing health information and dispatching roadside assistance.
Featured Story: Outstanding Shares, Buying and Selling Stocks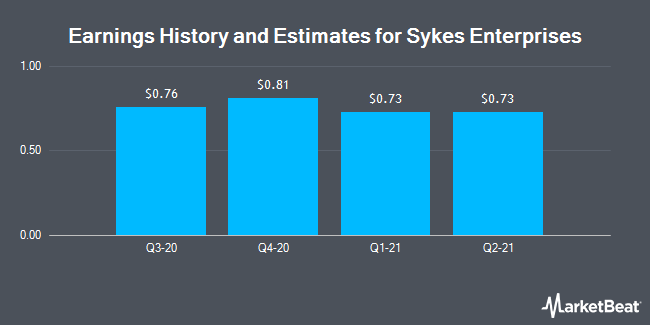 Receive News & Ratings for Sykes Enterprises Daily - Enter your email address below to receive a concise daily summary of the latest news and analysts' ratings for Sykes Enterprises and related companies with MarketBeat.com's FREE daily email newsletter.