Team (NYSE:TISI) issued its earnings results on Monday. The business services provider reported ($0.56) earnings per share for the quarter, missing the Zacks' consensus estimate of ($0.31) by ($0.25), Fidelity Earnings reports. Team had a negative net margin of 10.73% and a negative return on equity of 4.72%. The firm had revenue of $290.86 million during the quarter, compared to analyst estimates of $307.10 million.
Shares of TISI traded up $1.47 during midday trading on Tuesday, reaching $21.00. 34,525 shares of the company were exchanged, compared to its average volume of 245,661. The stock has a market cap of $597.13 million, a PE ratio of -49.83 and a beta of 1.81. Team has a 1-year low of $11.50 and a 1-year high of $25.55. The company has a debt-to-equity ratio of 0.86, a current ratio of 2.86 and a quick ratio of 2.50.
A number of brokerages recently weighed in on TISI. ValuEngine upgraded Team from a "buy" rating to a "strong-buy" rating in a report on Thursday, November 1st. KeyCorp lifted their target price on Team from $24.00 to $28.00 and gave the company an "overweight" rating in a report on Friday, August 10th. Finally, Zacks Investment Research upgraded Team from a "strong sell" rating to a "hold" rating in a research note on Tuesday, July 10th. Three equities research analysts have rated the stock with a hold rating, two have issued a buy rating and one has assigned a strong buy rating to the company's stock. Team presently has an average rating of "Buy" and an average target price of $26.00.
ILLEGAL ACTIVITY WARNING: This news story was published by Macon Daily and is the sole property of of Macon Daily. If you are accessing this news story on another domain, it was stolen and reposted in violation of United States & international trademark and copyright law. The original version of this news story can be viewed at https://macondaily.com/2018/11/06/team-tisi-issues-earnings-results-misses-estimates-by-0-25-eps.html.
About Team
Team, Inc provides specialty industrial services in the United States, Canada, Europe, and internationally. The company operates through three segments: TeamQualspec Group (TeamQualspec), TeamFurmanite Group (TeamFurmanite), and Quest Integrity. The TeamQualspec segment offers non-destructive evaluation and testing, radiographic testing, ultrasonic testing, magnetic particle inspection, liquid penetrant inspection, positive material identification, electromagnetic testing, eddy current testing, and alternating current field measurement services.
Featured Article: Stock Selection – What is cash flow?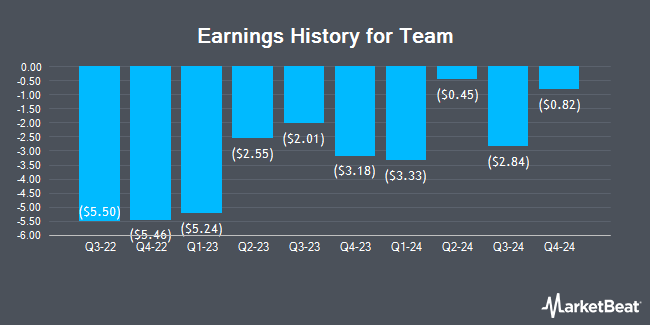 Receive News & Ratings for Team Daily - Enter your email address below to receive a concise daily summary of the latest news and analysts' ratings for Team and related companies with MarketBeat.com's FREE daily email newsletter.