Univar (NYSE:UNVR) updated its FY 2018 earnings guidance on Tuesday. The company provided EPS guidance of $1.60-1.60 for the period, compared to the Thomson Reuters consensus EPS estimate of $1.70. Univar also updated its 2017 guidance to EPS.
Several brokerages have recently commented on UNVR. Zacks Investment Research downgraded Univar from a buy rating to a hold rating in a research note on Monday, July 16th. ValuEngine upgraded Univar from a strong sell rating to a sell rating in a research note on Wednesday, August 8th. Barclays reduced their target price on Univar from $32.00 to $30.00 and set an equal weight rating for the company in a research note on Monday, August 6th. Deutsche Bank restated a buy rating and issued a $35.00 target price on shares of Univar in a research note on Friday, September 21st. Finally, Goldman Sachs Group upgraded Univar from a buy rating to a conviction-buy rating in a research note on Thursday, August 2nd. One equities research analyst has rated the stock with a sell rating, three have assigned a hold rating, three have issued a buy rating and one has issued a strong buy rating to the company. The company currently has an average rating of Buy and a consensus price target of $30.00.
Shares of UNVR traded down $3.68 during trading hours on Tuesday, hitting $22.20. The stock had a trading volume of 9,837,119 shares, compared to its average volume of 1,474,221. The company has a debt-to-equity ratio of 2.21, a current ratio of 1.65 and a quick ratio of 1.08. The company has a market cap of $3.63 billion, a PE ratio of 15.97, a P/E/G ratio of 1.56 and a beta of 1.41. Univar has a 1-year low of $23.18 and a 1-year high of $31.95.
Univar (NYSE:UNVR) last issued its earnings results on Tuesday, November 6th. The basic materials company reported $0.40 EPS for the quarter, missing the Thomson Reuters' consensus estimate of $0.42 by ($0.02). The firm had revenue of $2.13 billion during the quarter, compared to analyst estimates of $2.18 billion. Univar had a net margin of 2.19% and a return on equity of 19.85%. The business's quarterly revenue was up 4.0% on a year-over-year basis. During the same quarter in the prior year, the business earned $0.36 earnings per share. Analysts expect that Univar will post 1.69 EPS for the current fiscal year.
In other Univar news, Director Kerry J. Preete purchased 8,250 shares of the company's stock in a transaction that occurred on Monday, September 24th. The shares were acquired at an average price of $30.24 per share, with a total value of $249,480.00. Following the transaction, the director now owns 7,933 shares in the company, valued at $239,893.92. The acquisition was disclosed in a document filed with the Securities & Exchange Commission, which is available through this link. Company insiders own 0.55% of the company's stock.
TRADEMARK VIOLATION NOTICE: This report was first reported by Macon Daily and is owned by of Macon Daily. If you are reading this report on another site, it was copied illegally and reposted in violation of United States & international trademark & copyright laws. The correct version of this report can be viewed at https://macondaily.com/2018/11/06/univar-unvr-issues-fy-2018-earnings-guidance.html.
About Univar
Univar Inc distributes commodity and specialty chemical products, and related services worldwide. It offers herbicides, fungicides, insecticides, seeds, micro and macro nutrients, horticultural products, fertilizers, and feeds; storage, packaging, and logistics services for crop protection companies, storing chemicals, feed-grade materials, and seed and equipment parties; and pest control products and equipment.
Recommended Story: The Discount Rate – What You Need to Know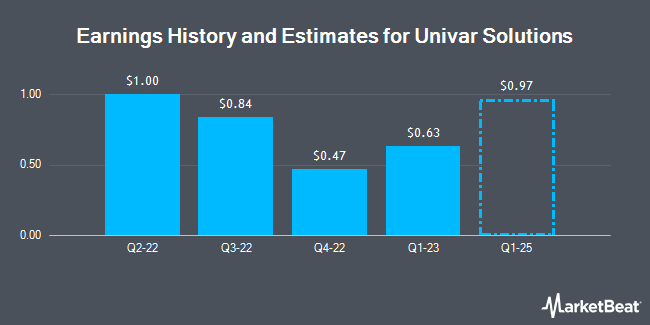 Receive News & Ratings for Univar Daily - Enter your email address below to receive a concise daily summary of the latest news and analysts' ratings for Univar and related companies with MarketBeat.com's FREE daily email newsletter.