BIO-TECHNE Corp (NASDAQ:TECH) announced a quarterly dividend on Tuesday, October 30th, NASDAQ reports. Stockholders of record on Friday, November 9th will be paid a dividend of 0.32 per share by the biotechnology company on Friday, November 23rd. This represents a $1.28 annualized dividend and a dividend yield of 0.74%. The ex-dividend date is Thursday, November 8th.
BIO-TECHNE has raised its dividend by an average of 0.8% per year over the last three years. BIO-TECHNE has a dividend payout ratio of 32.6% meaning its dividend is sufficiently covered by earnings. Equities research analysts expect BIO-TECHNE to earn $4.22 per share next year, which means the company should continue to be able to cover its $1.28 annual dividend with an expected future payout ratio of 30.3%.
Shares of NASDAQ TECH opened at $172.66 on Wednesday. The firm has a market capitalization of $6.43 billion, a PE ratio of 42.42, a P/E/G ratio of 2.88 and a beta of 1.04. The company has a debt-to-equity ratio of 0.49, a quick ratio of 3.56 and a current ratio of 4.65. BIO-TECHNE has a 12-month low of $121.26 and a 12-month high of $206.04.
BIO-TECHNE (NASDAQ:TECH) last announced its quarterly earnings data on Tuesday, October 30th. The biotechnology company reported $0.98 earnings per share (EPS) for the quarter, beating the consensus estimate of $0.95 by $0.03. The business had revenue of $163.00 million for the quarter, compared to analysts' expectations of $162.34 million. BIO-TECHNE had a return on equity of 14.09% and a net margin of 19.19%. The company's revenue for the quarter was up 12.7% compared to the same quarter last year. During the same period last year, the firm earned $0.90 earnings per share. As a group, analysts anticipate that BIO-TECHNE will post 3.79 earnings per share for the current year.
In related news, Director John L. Higgins sold 10,000 shares of the stock in a transaction on Thursday, August 23rd. The stock was sold at an average price of $187.92, for a total value of $1,879,200.00. Following the transaction, the director now owns 13,012 shares of the company's stock, valued at $2,445,215.04. The transaction was disclosed in a filing with the Securities & Exchange Commission, which is accessible through this link. Corporate insiders own 3.80% of the company's stock.
TECH has been the topic of several analyst reports. BidaskClub upgraded BIO-TECHNE from a "buy" rating to a "strong-buy" rating in a research note on Saturday, July 28th. Zacks Investment Research lowered BIO-TECHNE from a "hold" rating to a "sell" rating in a report on Thursday, September 27th. Craig Hallum increased their target price on BIO-TECHNE from $160.00 to $215.00 and gave the company a "buy" rating in a report on Wednesday, August 8th. Goldman Sachs Group initiated coverage on BIO-TECHNE in a report on Wednesday, October 17th. They issued a "neutral" rating and a $190.00 target price on the stock. Finally, Citigroup increased their target price on BIO-TECHNE from $160.00 to $205.00 and gave the company a "buy" rating in a report on Thursday, August 9th. Four research analysts have rated the stock with a hold rating, five have given a buy rating and one has given a strong buy rating to the stock. The stock has a consensus rating of "Buy" and a consensus price target of $184.13.
ILLEGAL ACTIVITY WARNING: This story was first reported by Macon Daily and is the property of of Macon Daily. If you are viewing this story on another publication, it was illegally stolen and reposted in violation of US & international copyright legislation. The correct version of this story can be read at https://macondaily.com/2018/11/07/bio-techne-corp-announces-quarterly-dividend-of-0-32-tech.html.
About BIO-TECHNE
Bio-Techne Corporation, together with its subsidiaries, develops, manufactures, and sells biotechnology reagents, instruments, and clinical diagnostic controls worldwide. It operates in three segments: Biotechnology, Protein Platforms, and Diagnostics. The Biotechnology segment offers specialized proteins, such as cytokines and growth factors, immunoassays, antibodies, and related reagents to the biotechnology research community; and in situ hybridization, media, and other cell culture products and reagents.
See Also: Fiduciary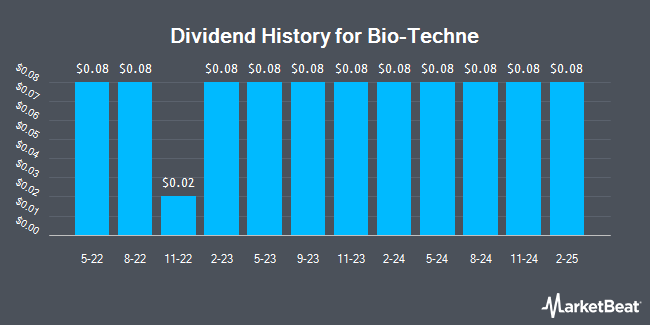 Receive News & Ratings for BIO-TECHNE Daily - Enter your email address below to receive a concise daily summary of the latest news and analysts' ratings for BIO-TECHNE and related companies with MarketBeat.com's FREE daily email newsletter.