BWX Technologies (NYSE:BWXT) announced its earnings results on Tuesday. The technology company reported $0.40 EPS for the quarter, missing the consensus estimate of $0.62 by ($0.22), Briefing.com reports. BWX Technologies had a return on equity of 66.19% and a net margin of 9.05%. The firm had revenue of $425.50 million during the quarter, compared to analyst estimates of $461.26 million. During the same quarter in the previous year, the business earned $0.46 earnings per share. The business's quarterly revenue was up 1.5% compared to the same quarter last year. BWX Technologies updated its FY18 guidance to $2.23-2.27 EPS.
Shares of BWXT stock traded down $14.54 during trading on Wednesday, hitting $46.13. 222,185 shares of the company were exchanged, compared to its average volume of 453,961. The company has a debt-to-equity ratio of 1.72, a quick ratio of 2.88 and a current ratio of 2.88. The stock has a market cap of $5.97 billion, a P/E ratio of 22.57, a P/E/G ratio of 2.11 and a beta of 0.58. BWX Technologies has a twelve month low of $55.46 and a twelve month high of $72.18.
In related news, CFO David S. Black sold 1,000 shares of the firm's stock in a transaction that occurred on Monday, August 13th. The shares were sold at an average price of $62.40, for a total transaction of $62,400.00. Following the completion of the sale, the chief financial officer now directly owns 70,570 shares in the company, valued at $4,403,568. The transaction was disclosed in a filing with the SEC, which is accessible through the SEC website. Also, VP Jason S. Kerr sold 1,365 shares of the firm's stock in a transaction that occurred on Monday, August 20th. The stock was sold at an average price of $64.06, for a total transaction of $87,441.90. Following the sale, the vice president now owns 9,132 shares of the company's stock, valued at $584,995.92. The disclosure for this sale can be found here. Over the last 90 days, insiders have sold 4,365 shares of company stock valued at $269,062. 0.52% of the stock is currently owned by corporate insiders.
Several brokerages have commented on BWXT. SunTrust Banks decreased their target price on shares of BWX Technologies from $83.00 to $79.00 and set a "buy" rating for the company in a report on Tuesday, August 21st. Zacks Investment Research upgraded shares of BWX Technologies from a "sell" rating to a "hold" rating in a report on Wednesday, October 17th. One research analyst has rated the stock with a sell rating, six have issued a hold rating and four have assigned a buy rating to the company. BWX Technologies presently has an average rating of "Hold" and an average price target of $70.00.
TRADEMARK VIOLATION NOTICE: This article was first published by Macon Daily and is owned by of Macon Daily. If you are accessing this article on another domain, it was illegally stolen and reposted in violation of international copyright law. The original version of this article can be read at https://macondaily.com/2018/11/07/bwx-technologies-bwxt-posts-quarterly-earnings-results.html.
BWX Technologies Company Profile
BWX Technologies, Inc manufactures and sells nuclear components to the United States government. The company operates in three segments: Nuclear Operations, Technical Services, and Nuclear Energy. The Nuclear Operations segment offers precision naval nuclear components and reactors; close-tolerance and equipment for nuclear applications; and components for defense applications, as well as critical nuclear components, fuels, and assemblies for government and other uses.
Featured Article: Compound Annual Growth Rate (CAGR)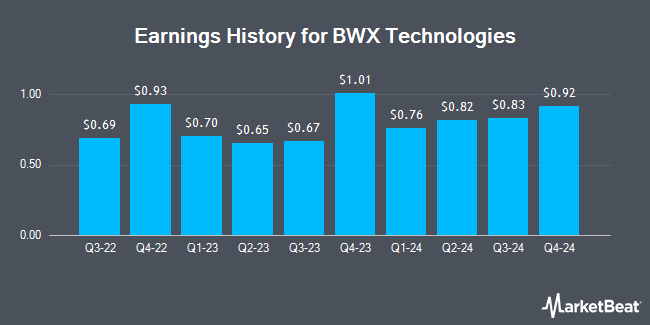 Receive News & Ratings for BWX Technologies Daily - Enter your email address below to receive a concise daily summary of the latest news and analysts' ratings for BWX Technologies and related companies with MarketBeat.com's FREE daily email newsletter.