Capricor Therapeutics (NASDAQ:CAPR) is scheduled to be announcing its earnings results after the market closes on Tuesday, November 13th. Analysts expect the company to announce earnings of ($0.13) per share for the quarter.
Capricor Therapeutics (NASDAQ:CAPR) last released its quarterly earnings results on Thursday, August 9th. The biotechnology company reported ($0.14) earnings per share for the quarter, missing the consensus estimate of ($0.13) by ($0.01). Capricor Therapeutics had a net margin of 111.24% and a negative return on equity of 204.82%. The business had revenue of $0.40 million during the quarter, compared to analysts' expectations of $0.41 million. On average, analysts expect Capricor Therapeutics to post $-1 EPS for the current fiscal year and $0 EPS for the next fiscal year.
Shares of NASDAQ:CAPR traded down $0.02 on Wednesday, hitting $1.03. The company's stock had a trading volume of 500 shares, compared to its average volume of 199,092. Capricor Therapeutics has a 1 year low of $0.66 and a 1 year high of $3.19. The stock has a market cap of $33.01 million, a P/E ratio of -2.34 and a beta of -2.24.
Several analysts have weighed in on CAPR shares. Zacks Investment Research raised Capricor Therapeutics from a "sell" rating to a "hold" rating in a report on Wednesday, August 29th. TheStreet raised Capricor Therapeutics from a "d" rating to a "c-" rating in a report on Tuesday, July 10th. Two investment analysts have rated the stock with a hold rating and two have given a buy rating to the company's stock. Capricor Therapeutics currently has an average rating of "Buy" and a consensus target price of $5.83.
TRADEMARK VIOLATION NOTICE: "Capricor Therapeutics (CAPR) to Release Quarterly Earnings on Tuesday" was originally posted by Macon Daily and is the property of of Macon Daily. If you are reading this report on another website, it was copied illegally and republished in violation of U.S. & international copyright & trademark legislation. The legal version of this report can be read at https://macondaily.com/2018/11/07/capricor-therapeutics-capr-to-release-quarterly-earnings-on-tuesday.html.
About Capricor Therapeutics
Capricor Therapeutics, Inc (NASDAQ:CAPR) is a clinical-stage biotechnology company focused on the discovery, development and commercialization of first-in-class biological therapeutics for the treatment of rare disorders. Capricor's lead candidate, CAP-1002, is an allogeneic cell therapy that is currently in clinical development for the treatment of Duchenne muscular dystrophy.
Featured Article: Hedge Funds – How They Work For Investors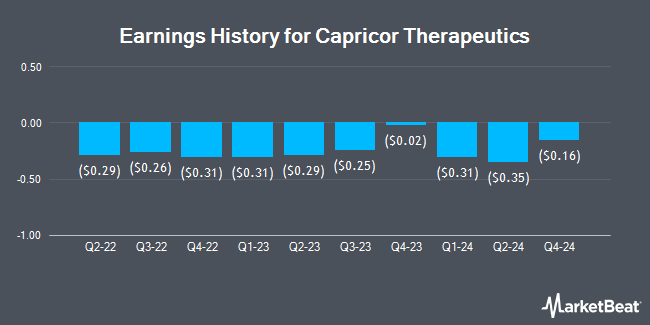 Receive News & Ratings for Capricor Therapeutics Daily - Enter your email address below to receive a concise daily summary of the latest news and analysts' ratings for Capricor Therapeutics and related companies with MarketBeat.com's FREE daily email newsletter.