Green Plains (NASDAQ:GPRE) is scheduled to issue its quarterly earnings data before the market opens on Thursday, November 8th. Analysts expect the company to announce earnings of $0.10 per share for the quarter. Individual that are interested in registering for the company's earnings conference call can do so using this link.
Green Plains stock opened at $17.72 on Wednesday. Green Plains has a 12 month low of $15.25 and a 12 month high of $21.90. The company has a debt-to-equity ratio of 0.74, a quick ratio of 0.64 and a current ratio of 1.51. The company has a market capitalization of $745.73 million, a PE ratio of -20.60 and a beta of 1.00.
Several equities analysts have recently commented on the company. ValuEngine raised Green Plains from a "hold" rating to a "buy" rating in a research report on Friday, October 12th. Zacks Investment Research raised Green Plains from a "sell" rating to a "hold" rating in a research report on Tuesday. BidaskClub raised Green Plains from a "strong sell" rating to a "sell" rating in a research report on Friday, August 3rd. Finally, Roth Capital set a $25.00 target price on Green Plains and gave the company a "buy" rating in a research report on Tuesday, July 31st. One investment analyst has rated the stock with a sell rating, three have assigned a hold rating and two have given a buy rating to the company. The stock has an average rating of "Hold" and an average price target of $24.00.
COPYRIGHT VIOLATION WARNING: "Green Plains (GPRE) to Release Earnings on Thursday" was originally posted by Macon Daily and is the sole property of of Macon Daily. If you are accessing this article on another site, it was copied illegally and reposted in violation of U.S. & international copyright laws. The correct version of this article can be accessed at https://macondaily.com/2018/11/07/green-plains-gpre-to-release-earnings-on-thursday.html.
Green Plains Company Profile
Green Plains Inc produces, markets, and distributes ethanol in the United States and internationally. The company operates through four segments: Ethanol Production; Agribusiness and Energy Services; Food and Ingredients; and Partnership. The Ethanol Production segment produces and sells ethanol, distiller grains, and corn oil.
Featured Article: Yield Curve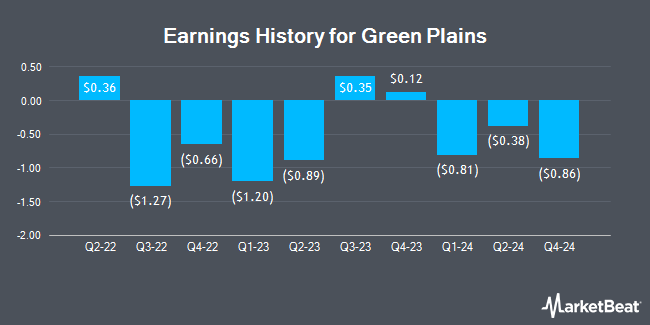 Receive News & Ratings for Green Plains Daily - Enter your email address below to receive a concise daily summary of the latest news and analysts' ratings for Green Plains and related companies with MarketBeat.com's FREE daily email newsletter.