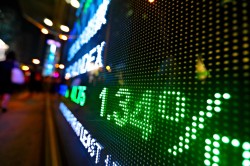 IsoRay (NASDAQ:ISR) is scheduled to be issuing its quarterly earnings data after the market closes on Thursday, November 8th. Analysts expect the company to announce earnings of ($0.02) per share for the quarter.
IsoRay (NASDAQ:ISR) last announced its earnings results on Tuesday, September 25th. The company reported ($0.04) EPS for the quarter, missing analysts' consensus estimates of ($0.03) by ($0.01). The business had revenue of $1.60 million during the quarter, compared to analyst estimates of $1.56 million.
Shares of IsoRay stock opened at $0.46 on Wednesday. IsoRay has a 12 month low of $0.36 and a 12 month high of $1.22.
Separately, HC Wainwright reissued a "neutral" rating on shares of IsoRay in a report on Monday, August 20th.
COPYRIGHT VIOLATION WARNING: "IsoRay (ISR) to Release Quarterly Earnings on Thursday" was posted by Macon Daily and is owned by of Macon Daily. If you are accessing this piece of content on another publication, it was copied illegally and republished in violation of US and international trademark and copyright laws. The legal version of this piece of content can be viewed at https://macondaily.com/2018/11/07/isoray-isr-to-release-quarterly-earnings-on-thursday.html.
About IsoRay
IsoRay, Inc, through its subsidiary, IsoRay Medical, Inc, develops, manufactures, and sells isotope-based medical products and devices for the treatment of cancer and other malignant diseases in the United States. The company produces CS-1 Cesium-131 brachytherapy seeds for the treatment of prostate, brain, lung, head and neck, gynecological, pelvic/abdominal, and colorectal cancers, as well as ocular melanoma.
Featured Article: What does cost of debt say about a company's financial health?
Receive News & Ratings for IsoRay Daily - Enter your email address below to receive a concise daily summary of the latest news and analysts' ratings for IsoRay and related companies with MarketBeat.com's FREE daily email newsletter.