Kennametal (NYSE:KMT) updated its FY19 earnings guidance on Monday. The company provided EPS guidance of $2.90-3.20 for the period, compared to the Thomson Reuters consensus EPS estimate of $3.15. Kennametal also updated its FY 2019 guidance to $2.90-3.20 EPS.
A number of brokerages recently commented on KMT. Goldman Sachs Group began coverage on Kennametal in a research report on Tuesday, October 2nd. They issued a buy rating and a $53.00 price target on the stock. Barclays restated a hold rating and issued a $44.00 price target on shares of Kennametal in a research report on Wednesday, August 8th. ValuEngine upgraded Kennametal from a sell rating to a hold rating in a research report on Wednesday, August 8th. Bank of America cut Kennametal from a neutral rating to an underperform rating and set a $52.00 price target on the stock. in a research report on Wednesday, August 8th. They noted that the move was a valuation call. Finally, BMO Capital Markets raised their price target on Kennametal from $42.00 to $46.00 and gave the stock a market perform rating in a research report on Wednesday, August 8th. Two equities research analysts have rated the stock with a sell rating, five have given a hold rating and six have issued a buy rating to the stock. Kennametal presently has a consensus rating of Hold and a consensus price target of $48.50.
Shares of KMT stock traded up $1.45 during mid-day trading on Wednesday, reaching $40.44. 59,311 shares of the stock traded hands, compared to its average volume of 1,021,765. Kennametal has a 1-year low of $32.91 and a 1-year high of $52.52. The firm has a market capitalization of $3.17 billion, a price-to-earnings ratio of 15.31, a PEG ratio of 2.45 and a beta of 2.12. The company has a current ratio of 1.74, a quick ratio of 1.15 and a debt-to-equity ratio of 0.48.
Kennametal (NYSE:KMT) last announced its quarterly earnings results on Monday, November 5th. The industrial products company reported $0.70 EPS for the quarter, beating the Zacks' consensus estimate of $0.65 by $0.05. Kennametal had a return on equity of 18.60% and a net margin of 8.45%. The firm had revenue of $587.00 million for the quarter, compared to analyst estimates of $590.22 million. During the same period last year, the firm posted $0.48 earnings per share. The business's revenue for the quarter was up 8.3% on a year-over-year basis. On average, sell-side analysts predict that Kennametal will post 3.15 earnings per share for the current fiscal year.
The company also recently declared a quarterly dividend, which will be paid on Wednesday, November 28th. Stockholders of record on Tuesday, November 13th will be paid a dividend of $0.20 per share. This represents a $0.80 dividend on an annualized basis and a dividend yield of 1.98%. The ex-dividend date is Friday, November 9th. Kennametal's payout ratio is 30.19%.
In other news, VP Gaalen Jan Kees Van sold 13,606 shares of the firm's stock in a transaction dated Wednesday, September 5th. The stock was sold at an average price of $41.09, for a total transaction of $559,070.54. Following the completion of the transaction, the vice president now directly owns 68,827 shares in the company, valued at $2,828,101.43. The sale was disclosed in a filing with the Securities & Exchange Commission, which is available through this hyperlink. Also, VP Michelle R. Keating sold 988 shares of the firm's stock in a transaction dated Monday, September 10th. The stock was sold at an average price of $42.20, for a total value of $41,693.60. Following the transaction, the vice president now owns 14,676 shares of the company's stock, valued at $619,327.20. The disclosure for this sale can be found here. Company insiders own 2.00% of the company's stock.
ILLEGAL ACTIVITY WARNING: This news story was originally published by Macon Daily and is the sole property of of Macon Daily. If you are reading this news story on another domain, it was copied illegally and reposted in violation of U.S. & international copyright & trademark legislation. The legal version of this news story can be read at https://macondaily.com/2018/11/07/kennametal-kmt-issues-fy19-earnings-guidance.html.
About Kennametal
Kennametal Inc develops and applies tungsten carbides, ceramics, super-hard materials, and solutions for use in metal cutting and mission-critical wear applications to combat extreme conditions related with wear fatigue, corrosion, and high temperatures worldwide. The company operates through three segments: Industrial, Widia, and Infrastructure.
Further Reading: How does inflation affect different investments?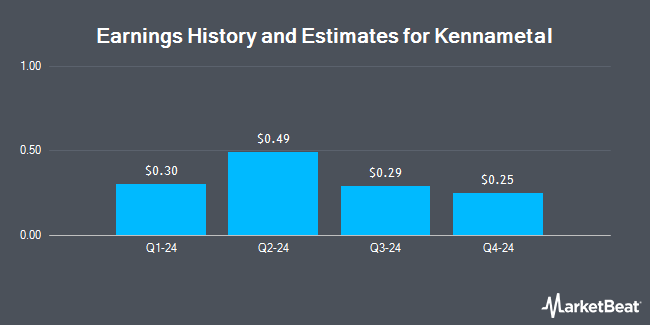 Receive News & Ratings for Kennametal Daily - Enter your email address below to receive a concise daily summary of the latest news and analysts' ratings for Kennametal and related companies with MarketBeat.com's FREE daily email newsletter.