REDHILL BIOPHAR/S (NASDAQ:RDHL) will issue its quarterly earnings data before the market opens on Tuesday, November 13th. Analysts expect the company to announce earnings of ($0.40) per share for the quarter.
REDHILL BIOPHAR/S (NASDAQ:RDHL) last posted its quarterly earnings data on Thursday, August 30th. The biotechnology company reported ($0.52) EPS for the quarter, missing analysts' consensus estimates of ($0.47) by ($0.05). The business had revenue of $2.35 million during the quarter, compared to analyst estimates of $2.77 million. REDHILL BIOPHAR/S had a negative net margin of 564.71% and a negative return on equity of 133.07%. On average, analysts expect REDHILL BIOPHAR/S to post $-2 EPS for the current fiscal year and $-1 EPS for the next fiscal year.
NASDAQ RDHL traded up $0.24 during trading on Wednesday, reaching $8.25. The company's stock had a trading volume of 938 shares, compared to its average volume of 81,868. The firm has a market cap of $178.48 million, a PE ratio of -3.15 and a beta of 0.84. REDHILL BIOPHAR/S has a twelve month low of $4.30 and a twelve month high of $11.49.
RDHL has been the topic of a number of recent research reports. Zacks Investment Research upgraded shares of REDHILL BIOPHAR/S from a "hold" rating to a "buy" rating and set a $10.00 price objective on the stock in a research note on Friday, October 5th. ValuEngine lowered shares of REDHILL BIOPHAR/S from a "hold" rating to a "sell" rating in a research note on Monday, July 30th. Finally, HC Wainwright restated a "buy" rating on shares of REDHILL BIOPHAR/S in a research note on Tuesday, July 31st. One research analyst has rated the stock with a sell rating, four have given a buy rating and one has issued a strong buy rating to the company's stock. REDHILL BIOPHAR/S currently has an average rating of "Buy" and an average price target of $20.65.
ILLEGAL ACTIVITY WARNING: This news story was originally posted by Macon Daily and is owned by of Macon Daily. If you are accessing this news story on another website, it was stolen and republished in violation of US and international copyright and trademark legislation. The legal version of this news story can be accessed at https://macondaily.com/2018/11/07/redhill-biophar-s-rdhl-to-release-quarterly-earnings-on-tuesday.html.
About REDHILL BIOPHAR/S
RedHill Biopharma Ltd., a specialty biopharmaceutical company, focuses on the development and commercialization of late clinical-stage drugs for the treatment of gastrointestinal diseases. It commercializes and promotes gastrointestinal products in the United States. The company's pipeline includes various drug candidates that are in advanced clinical development stages, including three Phase III-stage programs.
Further Reading: Outstanding Shares and The Effect on Share Price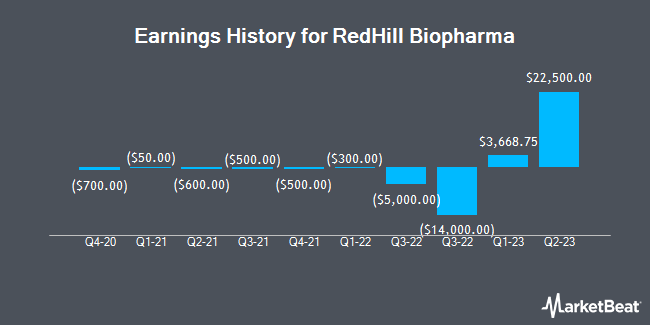 Receive News & Ratings for REDHILL BIOPHAR/S Daily - Enter your email address below to receive a concise daily summary of the latest news and analysts' ratings for REDHILL BIOPHAR/S and related companies with MarketBeat.com's FREE daily email newsletter.