SemGroup (NYSE:SEMG) posted its quarterly earnings data on Wednesday. The pipeline company reported $0.03 EPS for the quarter, missing analysts' consensus estimates of $0.12 by ($0.09), Briefing.com reports. The company had revenue of $634.00 million for the quarter, compared to analysts' expectations of $586.71 million. SemGroup had a positive return on equity of 2.44% and a negative net margin of 2.17%. The company's revenue for the quarter was up 16.1% compared to the same quarter last year. During the same quarter in the prior year, the business posted ($0.25) EPS.
SEMG traded down $0.72 during midday trading on Friday, hitting $18.35. The company's stock had a trading volume of 33,750 shares, compared to its average volume of 625,181. The company has a debt-to-equity ratio of 1.60, a current ratio of 1.13 and a quick ratio of 1.02. The stock has a market capitalization of $1.55 billion, a price-to-earnings ratio of -77.02, a price-to-earnings-growth ratio of 46.26 and a beta of 1.89. SemGroup has a 52-week low of $18.17 and a 52-week high of $30.95.
The firm also recently declared a quarterly dividend, which will be paid on Monday, November 26th. Shareholders of record on Friday, November 16th will be issued a $0.4725 dividend. This represents a $1.89 annualized dividend and a yield of 10.30%. The ex-dividend date of this dividend is Thursday, November 15th. SemGroup's dividend payout ratio (DPR) is -787.50%.
SEMG has been the subject of a number of recent research reports. BMO Capital Markets reiterated a "hold" rating and set a $26.00 price objective on shares of SemGroup in a research report on Friday, July 13th. Zacks Investment Research cut SemGroup from a "hold" rating to a "strong sell" rating in a research report on Tuesday, July 17th. ValuEngine upgraded SemGroup from a "sell" rating to a "hold" rating in a research report on Wednesday, August 8th. Royal Bank of Canada dropped their price objective on SemGroup from $30.00 to $29.00 and set an "outperform" rating for the company in a research report on Friday, August 10th. Finally, Wells Fargo & Co reiterated a "hold" rating on shares of SemGroup in a research report on Wednesday, September 12th. Two investment analysts have rated the stock with a sell rating, eight have assigned a hold rating and four have assigned a buy rating to the company. The company presently has an average rating of "Hold" and a consensus target price of $26.90.
WARNING: This report was reported by Macon Daily and is the sole property of of Macon Daily. If you are viewing this report on another domain, it was illegally copied and reposted in violation of US & international trademark & copyright legislation. The legal version of this report can be accessed at https://macondaily.com/2018/11/08/semgroup-semg-releases-earnings-results-misses-expectations-by-0-08-eps.html.
SemGroup Company Profile
SemGroup Corporation provides gathering, transportation, storage, distribution, marketing, and other midstream services for producers, refiners of petroleum products, and other market participants. Its Crude Transportation segment operates crude oil pipelines and truck transportation businesses. It operates a 455-mile crude oil gathering and transportation pipeline system in Kansas and northern Oklahoma; a 75-mile crude oil gathering pipeline system that transports crude oil from production facilities in the DJ Basin to the pipeline owned by White Cliffs Pipeline, LLC; a 527-mile pipeline that transports crude oil from Platteville, Colorado to Cushing, Oklahoma; and 3 pipelines with an aggregate of 106 miles of pipe, as well as crude oil trucking fleet of 215 transport trucks and 210 trailers.
See Also: Market Capitalization in the Stock Market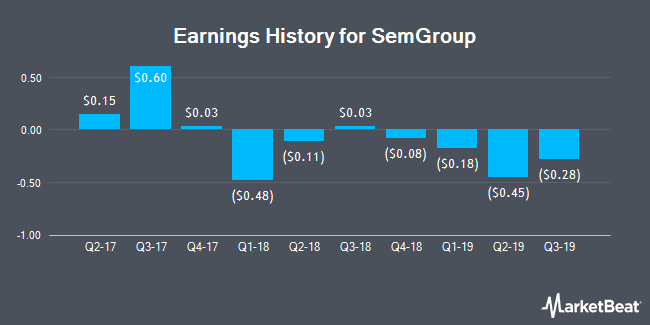 Receive News & Ratings for SemGroup Daily - Enter your email address below to receive a concise daily summary of the latest news and analysts' ratings for SemGroup and related companies with MarketBeat.com's FREE daily email newsletter.