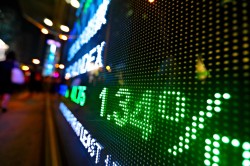 ATA (NASDAQ:ATAI) posted its quarterly earnings data on Thursday. The company reported ($0.11) EPS for the quarter, Morningstar.com reports. ATA had a negative return on equity of 30.77% and a negative net margin of 25.47%. The company had revenue of $0.16 million for the quarter.
Shares of NASDAQ:ATAI traded down $0.02 on Friday, hitting $1.09. 180,300 shares of the company were exchanged, compared to its average volume of 222,764. ATA has a 1-year low of $0.82 and a 1-year high of $6.87.
Several equities research analysts have recently commented on the stock. ValuEngine upgraded shares of ATA from a "hold" rating to a "buy" rating in a research note on Friday, August 17th. TheStreet downgraded shares of ATA from a "c" rating to a "d+" rating in a research note on Monday, July 16th.
WARNING: This story was originally published by Macon Daily and is owned by of Macon Daily. If you are accessing this story on another website, it was stolen and republished in violation of United States and international copyright and trademark laws. The correct version of this story can be viewed at https://macondaily.com/2018/11/09/ata-atai-posts-quarterly-earnings-results.html.
ATA Company Profile
ATA Inc, through its subsidiaries, provides computer-based testing services in the People's Republic of China. The company offers services for the creation and delivery of computer-based tests utilizing its test delivery platform and proprietary testing technologies that are used for professional licensure and certification tests in various industries, including IT services, banking, teaching, and insurance; and administrative services, such as test registration, scheduling, fee collection, and certification fulfillment.
Featured Article: Earnings Per Share (EPS)

Receive News & Ratings for ATA Daily - Enter your email address below to receive a concise daily summary of the latest news and analysts' ratings for ATA and related companies with MarketBeat.com's FREE daily email newsletter.